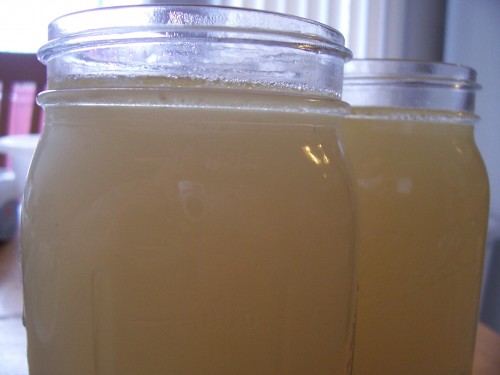 Making chicken stock is one of the first things I started doing in my journey to nourishing food. Because I'd never done it before, it seemed intimidating. It's not. It's easy, nutritious, and saves you money. Please don't throw those bones away.
My first go around I tentatively used my stove top and the stock was delicious, but when it was refrigerated it came out looking like jell-o. Then I found out that that was a good thing! You want your stock to gelatinize – it means it is not only delicious, but an extremely nutritious real food as well.
After making stock on my stove top for a while I found an even easier method – the crock pot! During the summer I will sometimes roast a chicken in the crock pot itself to avoid turning on the oven. This way I don't even have to dirty up a roasting pan and my house stays cooler at the same time. In the cooler months you should roast your chicken in the oven – crispy chicken skin anyone?
But, back to the stock – I will show you my favorite method using the crock pot. It works for me.
Crock Pot Chicken Stock
1). Every week or two I buy a whole free range, organic chicken from our farmer.
2). Roast the chicken in the oven (or crock pot in summer) and enjoy one of my favorite meals – roast chicken with vegetables and millet. For our family size we always have a good amount of leftover chicken to use throughout the week in salads, sandwiches, etc.
3). Cut all of the meat off of the bones. Place the chicken carcass and any stray bones into your crock pot. For a larger chicken (6 lbs) I use my 6 quart crock, for a smaller chicken (4 lbs) I use a 4 1/2 quart crock.
4). Add any additional vegetables you'd like – onions, celery, carrots, garlic, herbs. I like to keep a bag in the freezer of the scraps left from chopping onions and celery. I then just dump this bag in with the bones when I begin the stock.
5). Cover the bones and vegetables with cold filtered water. Cold because this allows the flavor and nutrients to be fully extracted from the bones, and filtered because you really don't want chlorine or fluoride in their.
6). Add 1-2 tablespoons of vinegar (I usually use apple cider) and allow to sit for about an hour. You really need to do this to allow the minerals to be extracted from the bones. I let it sit while I wash dishes and clean up the kitchen. This way it is no hassle at all.
7). Turn the slow cooker to low and allow to simmer overnight. I usually let it go for about 18-24 hours.
8). Once it has cooled a bit, strain chicken stock using a colander, sieve or cheesecloth.
9). Store in quart canning jars and use in soups, stews, sauces and for cooking grains.