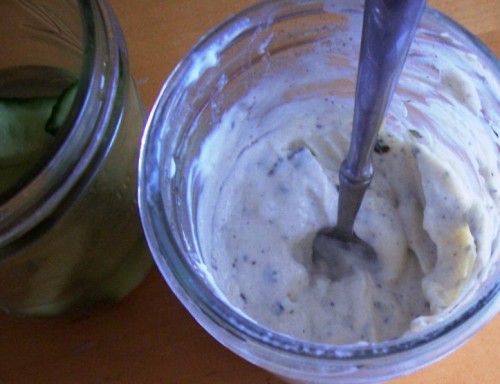 Did anyone else grow up eating lay's potato chips dipped in hidden valley ranch flavored dip? It makes me cringe now to think about that mysterious powder being poured into the innocent sour cream. What is in that stuff?! I believe MSG is among the ingredients. No wonder I couldn't stop eating it!
My husband also loves the flavor of ranch salad dressings and dips. He loves it when I make a ranch salad dressing using sour cream and buttermilk – two ingredients I don't generally have on hand.
I almost always have yogurt in the refrigerator, though. And because we need to make whey for homemade baby formula, I almost always have yogurt cheese sitting around as well.
This doesn't taste exactly the same as the sour cream/buttermilk combination, but it is delicious in it's own right – and contains no mysterious ingredients.
Yogurt Ranch Dip
Ingredients
1/2 cup yogurt cheese (whole milk yogurt drained overnight in a sieve with cheesecloth)
2 medium garlic cloves, minced
1 teaspoon dried, minced chives
1/8 teaspoon dried dill weed
3-4 grinds of fresh black pepper
1/4 cup plain whole milk yogurt
1/4 – 1/2 teaspoon sea salt, or to taste
1 1/2 teaspoons lemon juice
1/2 teaspoon onion powder
Directions
Mix all ingredients together thoroughly. Refrigerate for at least one hour and taste before serving. Adjust seasoning as needed. Serve as a dip for cucumber slices, carrot stick, celery sticks or any other vegetables.