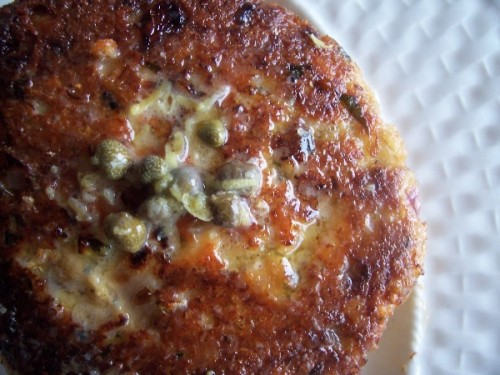 Canned wild salmon is a staple in our pantry. It is the ultimate "real food". It is much less expensive than frozen or fresh, it has a good amount of dairy-free calcium due to the bones and it makes throwing together a quick dinner fairly simple. For all of these reasons I make salmon cakes at least every other week.
There are a few different flavors I use in making salmon cakes – from Thai "fish cakes" to these more Italian-flavored cakes. The addition of the lemon-caper butter not only adds a lot of flavor, but makes them very satisfying.
A green salad, simple stir fried cabbage and a roasted sweet potato are a great accompaniment to these salmon cakes. Sauerkraut or kimchi make a great, nutritious condiment as well.
A note on ingredients:
I usually buy the wild Alaskan canned salmon at Trader Joe's. It is both good quality and a great price.
Capers are the brined bud of a flower, which I also buy at Trader Joe's. I only recently was introduced to these tangy, salty little treasures and they are delicious. A bit like an earthier pickled cucumber.
Instead of the traditional breadcrumbs or flour I use coconut flour or psyllium husks as a binder. If you are eating grains feel free to substitute breadcrumbs or flour, but you will need a bit more due to the high fiber content of the coconut flour and psyllium.
Salmon Cakes
Serves 6-8
Ingredients
2 eggs
1/2 medium onion, minced
2 garlic cloves, minced
2 tablespoons chopped fresh parsley or cilantro (or 1 tablespoon dried)
1 teaspoon sea salt
black pepper to taste
juice of 1 lemon, ~1-2 tablespoons
10 dashes of hot sauce or 1/8 teaspoon of cayenne
2 (14.5 oz) cans of wild salmon, drained
3 tablespoons of coconut flour or psyllium husks
coconut oil or butter for frying
Directions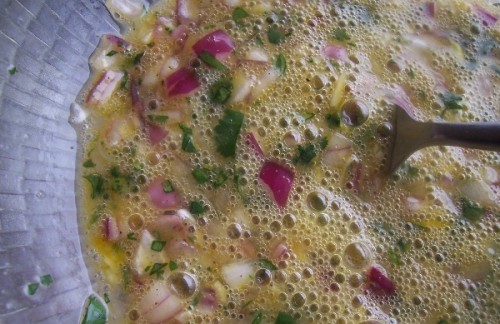 Zest the lemon and set aside to use in the lemon-caper butter. In a medium bowl beat the eggs. Mix in the onion, garlic, herbs, salt, pepper, lemon juice and hot sauce. Once all of your "wet" ingredients are well incorporated, add the canned salmon (bones included) and mash it into the other ingredients using the back of your fork. The bones are so soft that you will not notice them in the final product, plus they add a good amount of calcium. Feel free to pick them out if you prefer.
Once the salmon is incorporated into the wet ingredients you can add in the coconut flour or psyllium. Heat up a large frying pan over medium-low heat while the coconut flour absorbs the liquid in the salmon mixture. If the mixture is too moist add a bit more flour or psyllium.
Once your pan is good and hot, add either coconut oil or butter and allow to melt. Form medium sized "burgers" and place in pan. Do not move them! Allow them to cook on one side for about 5-7 minutes, or until you can get underneath them with a spatula. Flip them over and cook them for another 5 minutes. You are looking for a deep, dark golden brown.
While these cook you can prepare the lemon-caper butter.
Lemon-Caper Butter
Serves 6-8
Ingredients
8 tablespoons butter
1 teaspoon of lemon zest (zest of one lemon)
2 tablespoons of capers, drained and rinsed
Directions
Melt the butter with both the lemon zest and capers. Mix well before spooning over the salmon cakes. Be sure to evenly distribute the capers amongst the number of servings, as they will fall to the bottom of the melted butter.