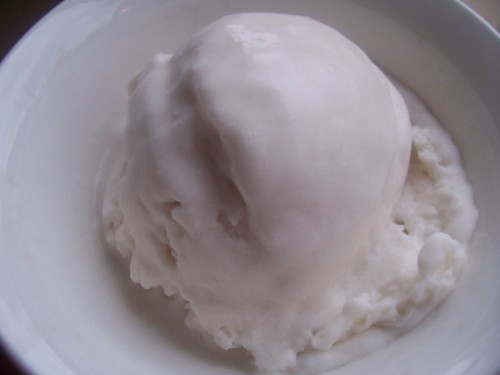 ***Congratulations to random commenter #16, Motherhen68. You won the Garden of Eating giveaway. I will be contacting you :)***
Ice cream is probably one of my favorite foods. Unfortunately almost all commercial ice creams are made with conventional dairy, white sugar, high fructose corn syrup and weird additivies that are difficult to pronounce.
For this reason I was thrilled when Rachel Albert-Matesz told me about her new book The Ice Dream Cookbook.
The great thing about this book is that not only are the recipes dairy and gluten free, they are also low in sugar. All of the recipes are sweetened only with honey or agave and stevia. So, for anyone who can not tolerate cane sugar, or tries to stay away from too many sweeteners – you can enjoy ice cream (dream) again!
This book not only includes recipes, but an entire section titled "What You Need to Know to Get Started."
In this first section their are three helpful chapters:
Essential Ingredients & Shopping Tips.
Equipment.
Essential Techniques.
All three of these chapters are quite detailed and a helpful background for all of the recipes.
A note on equipment: I do not own an ice cream maker and currently it is not in our budget to purchase one. I have found that you can make a good-textured ice cream/dream without an ice cream maker. I have been informed by Rachel, and others, that ice cream makers do creat a superior textured ice cream/dream.
The second part of the book contains ice dream recipes in four categories: the basic flavors, beyond the basic flavors, coffee, tea & nut flavors, and fruity favorites.
In these sections you will find everything from basic vanilla (which I will share with you today), to basil, to chai to dried cherry pecan – all flavors I can't wait to try.
The ingredients use in these recipes are basic, nourishing foods such as coconut milk, gelatin, sea salt, real extracts, honey, stevia and spices.
Gelatin may seem like a strange ingredient in an ice cream dessert, but it works fantastically as a stabilizer. It is also a nourishing food. I keep 100% bovine gelatin on hand for homemade baby formula, but it is easy to find online or in some health food stores.
Rachel goes beyond ice dream in the last three chapters of the book. She gives us recipes for sauces, (hot fudge, anyone?), a la mode (mmm apple crisp), and additional indulgences (how about an ice dream sandwich made from gluten free cookies?). All of these are sweetened naturally with fruits, honey, molasses and stevia.
Let me give you a sneak peek at one of the recipes from the book. I made this for my father-in-law who is a fellow lover of ice cream, but can not have dairy. He loved it. I chose vanilla because he said that is one of his favorite flavors. I personally prefer chocolate and found this to be delicious sprinkled with unsweetened cocoa powder.
Vanilla Ice Dream (no ice cream maker required)
from The Ice Dream Cookbook by Rachel Albert-Matesz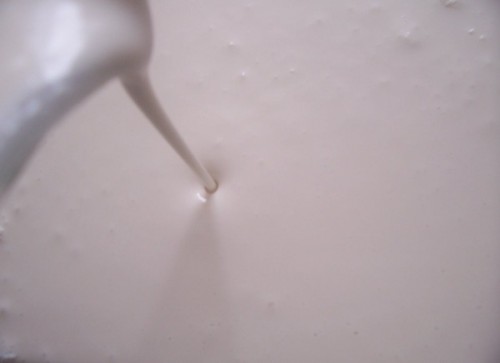 Recipe Notes: Some people love the flavor of coconut. I am not one of them. I don't mind it, but I don't prefer it. This recipe is supposed to have the strongest coconut flavor and I loved it. You could taste the coconut, but it was not the star of the show. I can't say for sure, but I imagine that the other flavors will not have much of a coconut flavor.
Ingredients
1/3 cup cool or cold filtered water
2 teaspoons unflavored gelatin or 3/4 teaspoon agar agar powder (not flakes)
1/4 cup honey or agave nectar; additional 1 to 2 tablespoons as needed
1/4 to 1/2 teaspoon pure stevia extract powder or 1/2 to 1 teaspoon clear stevia liquid (start with less; add more only if needed)
1/8 teaspoon finely ground, unrefined sea salt
3 1/2 cups (two 14-ounce cans) unsweetened, preservative free coconut milk (regular, not lite)
1 tablespoon pure vanilla extract or alcohol-free vanilla flavoring
Directions
Add 1/3 cup water to a small saucepan. Slowly sprinkle with gelatin or agar agar powder. let stand for 2 to 5 minutes to soften. Warm over medium-low heat, without stirring, until gelatin or agar agar dissolves. Scrape the mixture into a blender, vita-mix, or food processor. (Shannon's note: I used a stick blender). Cover and process until smooth.
Add honey, stevia and sea salt. Blend. Add the coconut milk and vanilla, and blend until smooth, stopping to scrape the sides with a spatula. For a sweeter taste, add an additional 1/8 teaspoon stevia and/or 1 tablespoon honey. Blend, taste and repeat if needed.
Pour into one or more wide-mouth jars. Cover and refrigerate for at least 6 hours before churning.
Scrape the chilled custard into the canister of your ice cream maker. Churn according to the manufacturer's instructions.
Serve immediately or spoon into several 8- to 16-ounce freezer-safe containers. Cover and freeze for 3 or more hours for a firmer texture.
Soften solidly frozen dessert by placing it in the refrigerator for 30 to 45 minutes or on the counter for 15 to 30 minutes before serving.
My Tip For Making Ice Cream/Dream Without an Ice Cream Maker
Follow directions above through number 3.
Scrape the chilled custard into a glass or stainless steel container. The more shallow the container, the faster the freezing process. Freeze for 45 minutes.
After 45 minutes remove custard from freezer and use a fork or other device to mix the custard well. Break up all of the ice crystals. The smaller the ice crystal structure, the better texture your ice dream will be.
Place custard back in freezer and repeat process every 30 minutes until ice dream is the texture of a firm soft serve, approximately 3 hours.
If a firmer texture is desired, place the ice dream back in the freezer and remove 15-30 minutes before serving.
Rachel has kindly agreed to give away one copy of The Ice Dream Cookbook to one of my readers.
Here are the guidelines for the giveaway:
U.S. or Canadian residents only, please.
For one entry: simply leave a comment on this post.
For a second entry: blog about this giveaway. I will receive a link back so there is no need to let me know.
For a third entry: subscribe to nourishing days and leave a second, separate comment. If you are already a subscriber leave a second, separate comment letting me know.
The giveaway will run through the morning of Friday, May 22nd.
I will close comments and randomly choose the winner who will be notified by email.
I hope you win!
**this post is a contribution to Real Food Wednesday and works for me wednesday**