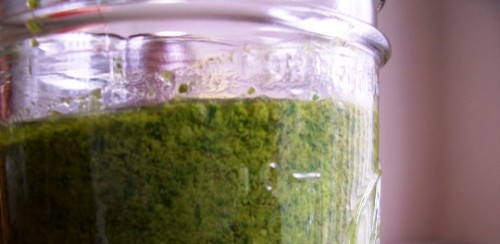 Pesto is one way to preserve basil, or any herb really. Just pop it into the freezer when it's done and pull it out in the dead of winter for a taste of summer. But when contemplating food preservation I always want to find more sustainable methods. Methods that use less energy, supplies and storage space.
Two methods of food preservation that I would like to focus on this year are drying and lacto-fermenting. All fruits are said to dry well including the "vegetable fruits" such as tomatoes and peppers. So, at least in some instances, it makes sense to dehydrate them rather than can them.
Fermentation has been used for ages to preserve everything from milk to vegetables and even meats. And now starters and tools are available in order to make the process even easier.
But, back to the pesto… This past week we were blessed with an abundance of basil from our CSA share. With crispy walnuts and raw parmesan in the refrigerator along with garlic and good olive oil in the pantry, pesto was inevitable. So with my toddler as head button-pusher we whizzed up a jar of "tastes like summer".
My husband isn't wild about basil, which is fine, that just means more for the rest of us. *smile*
Basil-Walnut Pesto
Recipe Notes: I have listed some of these ingredients as approximates because everyone has their own idea of what pesto should be. I also add a teaspoon of lemon juice to try to avoid oxidation and keep the basil a bright green.
2 cups fresh basil leaves, packed
~ 1/2 cup grated parmesan
~1/3 cup crispy walnuts
3 garlic cloves
1/3 – 1/2 cup extra virgin olive oil
~ 1/2 teaspoon sea salt
1 teaspoon lemon juice
Wash basil leaves in a large bowl of cold water to remove any dirt. Drain and spin dry or allow to dry on a towel.
To a food processor add the crispy walnuts and pulse until it is a coarse meal. Add parmesan and garlic and pulse until the garlic is chopped and the parmesan is incorporated. Add basil leaves and pulse until they have been thoroughly chopped down and incorporated.
With the food processor running stream in the olive oil until you have reached your desired consistency. Add salt and lemon juice and pulse again. Taste and adjust seasoning as desired.
What about you… how do you plan to preserve the harvest?
Be sure to come back tomorrow when I will begin a series on fermented foods. If you're interested you can start looking at all the different fermented foods that you can make at home. See you then!