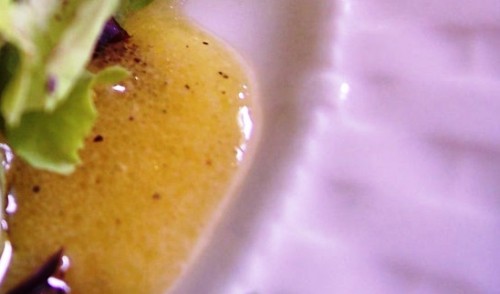 I have decided to postpone the next part in my adrenal fatigue series so that I can do a bit more research and prepare our home and hearts for the Sabbath. Lord willing, we will continue next week.
****

When I made up a batch of this salad dressing the other day I couldn't believe I hadn't shared it with y'all yet. In my experience homemade salad dressing is simple, really yummy, and much more frugal and nutritious than anything you can buy in the store.
When I was a teenager I was brainwashed into thinking that you couldn't make your own salad dressing. Seriously. I really thought that salad dressing was this wondrous thing that just appeared in bottles and could not be made or procured anywhere besides a grocery store. In fact I distinctly remember ridiculing my dad for making his own salad dressing instead of buying it. I'm sure his didn't contain soy oil, msg or sugar, though. (if you're reading this, sorry Dad).
Thankfully you can still find a few bottled dressings on the market that don't contain those weird ingredients. You can even find lacto-fermented salad dressings that are raw and contain probiotics here, from my resources page.
But if you just need a quick, simple homemade dressing here is our favorite. I make it once a week or so and keep it in the refrigerator for quick summer salads. Feel free to vary the vinegar/oil ratio, add fresh or dried herbs, or any other seasonings. I use this basic recipe as a blueprint for other flavors.
Basic Salad Dressing
Recipe Notes: If you can manage it, pay a little extra for good olive oil. When it comes to our grocery budget, I put healthy fats at top priority. I've read studies saying that grocery store "extra virgin" olive oils actually contain some soy or corn oil as fillers, even though it is not on the label. Plus they tend to be rancid. Cold filtered is optimal, and you can find a great source for real olive oil right here.

1/2 cup raw apple cider vinegar
1 tablespoon dijon mustard or 1-2 farm fresh egg yolks (for emulsification)
3 medium garlic cloves, minced
plenty of sea salt and black pepper
1 – 1 1/2 cups extra virgin olive oil
In a canning jar or bowl combine vinegar, mustard  or egg yolks, garlic, and seasonings. Mix well.
While whisking, slowly drizzle in about a cup of the olive oil. Taste the dressing with a lettuce leaf and if it is too tangy for you continue to add olive oil.
Transfer to a pourable container (or leave in a pint or quart jar) and refrigerate until needed. Shake before serving. Keeps for at least 1 1/2 weeks in the refrigerator.