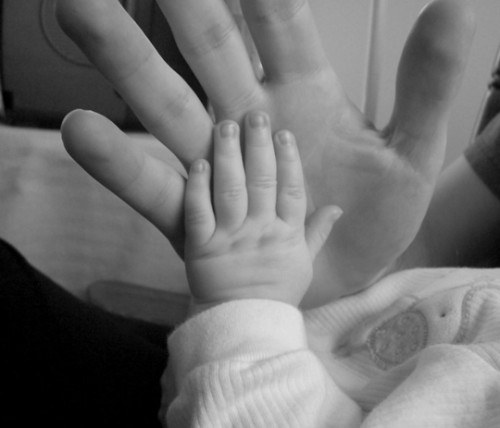 I wrote this last weekend just after waving good-bye to my boys. All are back safe and sound now, but now that my little man just turned three I thought it a good time to share what a gift he, his brother and my husband are. Pictured above is our now 3 year old's hand with his papa's when he was just months old.
Our home is quiet. I love the quiet – a time to think, pray, meditate, read. Because it is so rare around here it is greatly valued. Most days I relish this quiet, but today there is a strangeness to it. I am alone.
There are no little men tucked safely away in their beds ready to rouse me from my quiet moment with a sing-song "please get up, please." There is no husband to chat the evening away with while we slice tomatoes for the dehydrator. Just me, the quiet and a strange emptiness in our home and in my heart.
With a smooch and a cheek snuggle I said good-bye to my little men, trying to hide the tears. There is something strange and unnatural about a mama saying good-bye to her small children.
For me there is rest to be had, reading to be done, and on Sunday many tomatoes to be canned. I am so grateful for a husband who grants me this time to refresh my spirit and do work that might otherwise go undone. More than that I am grateful for the days I spend in blessed fellowship with our little boys and the papa. Lessons I could have never learned without such an intense four years of love, tears, joy, frustration, failure, sanctification.
There are no words to describe the love and gratitude I have for my family. These men – little and big – have been the greatest tools God has ever used to bring me to Him.
There is a word to describe His love. Agape.
In the hustle and bustle of every day life I need to remember that.