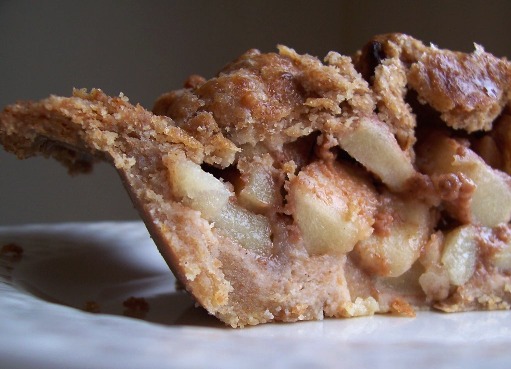 We have a restaurant near us that serves real food. It is such a blessing that when we do go out to eat (maybe once a month) we can know that the meat is not from a CAFO, the vegetables are locally grown, and the pie is really good. Last fall they had homemade apple pie on the menu, which caught our eye because they said their pie crust was made of lard. No hydrogenated shortening.
Sold at the word lard we ordered a piece to split and I have to tell you it was the best piece of pie I'd ever eaten. And I've eaten my fair share of Thanksgiving pie.
I know my husband really loved it because for the past year or so whenever the word lard came up, "pie" would soon follow. So for Thanksgiving this year I knew I wanted to make him an apple pie with a lard crust. The only problem was that every pie filling recipe contained sugar, which would certainly take the wind out of his sails when I told him.
Enter the rather large jar of local raw honey in our pantry.
I knew that apple and honey would be good, but I thought that the honey could overpower both the apple and the spices. So I took care to use as little honey as possible for flavor and health reasons. This was also my first time rendering lard and when the process was complete I was a little fearful of the "meaty" odor that the lard contained. Because of that I used Ann Marie's pie crust recipe, which contains both butter (see sources) and lard. I made it using whole spelt flour, as I tolerate it a bit better than wheat, but sprouted flour would be even better.
In this day of low-fat everything I have never had such a rich pie crust. It was flaky and decadent – the best we've ever had. And apparently so was the pie filling because now when the word "pie" comes up it is directed at our homemade Thanksgiving pie of 2009.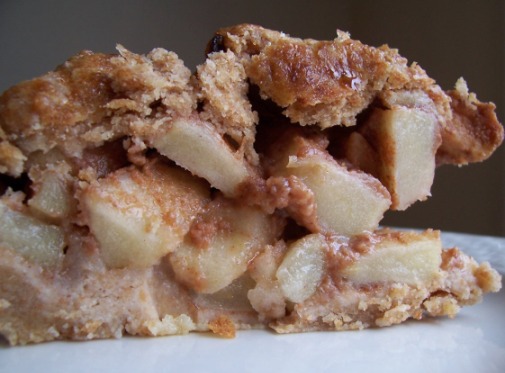 Honey-Sweetened Apple Pie with Spelt Crust
Recipe Notes: This pie is not terribly sweet, which is part of the reason we loved it. Served with a dollop of fresh whipped cream sweetened with stevia (or maple syrup), it is just right, to my tastes. If you prefer a sweeter pie filling add a touch more honey and a touch more flour, to counteract the liquid. It's also impossible to say exactly how many apples will fill your particular pie pan so I shoot for just a bit extra. It makes for a lovely little snack.

Ingredients
1 pie crust recipe, using whole spelt or sprouted flour (see sources)
~ 7 large granny smith or other baking apples, peeled, cored and sliced
1/3 cup honey, heated until pourable
2 teaspoons cinnamon
pinch each of cloves, nutmeg, and sea salt
1/3 cup flour, preferably sprouted (see sources)
Directions
Prepare pie crust. Roll out and fill 9" pie pan with bottom crust.
Mix apple slices, honey, cinnamon, cloves, nutmeg, sea salt, and flour in a large bowl. Taste for sweetness and adjust if necessary.
Carefully pour apple mixture into prepared pie crust, filling in gaps and holes along the way. Your pie filling will seem like way too much, creating a mountain of apples in the middle. Don't worry, it cooks down a little bit and you want a higher pie filling.
Roll out top crust. Create an egg wash with one egg white and a tablespoon of water. Brush the bottom crust edge with egg wash.
To transfer crust to pie: Place rolling pin over one side of crust. Very carefully and loosely roll the crust around the rolling pin and bring the rolling pin to the pie. Carefully unroll the crust and drape over the pie filling. Don't worry if tears appear, you can patch it up. A rustic pie lets everyone know it's homemade.
Trim the edge of the crust to about 1-inch over the rim. Tuck the edge of the top crust under the edge of the bottom crust and crimp the 2 together with your fingers. Brush the entire top crust with the egg wash and cut 4 or 5 slits for ventilation.
Place the pie on a sheet pan and bake for 1 to 1 1/4 hours, until golden brown. If the edges start to brown too fast remove the pie and cover the edges in aluminum foil.
This recipe is a contribution to Stephanie's Healthy Sweets Carnival.