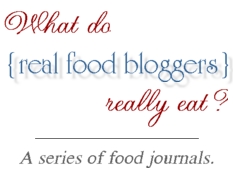 Today we continue taking a sneak peek into what real food bloggers really eat. Wardeh blogs over at GNOWFGLINS – where the focus is on God's Natural, Organic, Whole Foods, Grown Locally, and In Season. Her site is full of some great stuff, including the traditional foods ecourse that is helping a lot of people transition into the traditional foods realm. So let's see what she really eats, shall we?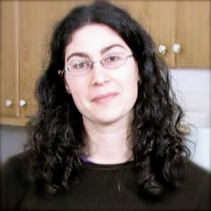 First, a word from Wardeh on how she eats:
I am keeping my total carbs down for weight management. I do eat some grains and other carbs, though. I choose sprouted over unsprouted, and also eat smaller amounts of grains overall. I also have been limiting my sweets for the same goal of weight management. But you'll see I eat some dark chocolate on some days!
Wardeh's Food Journal
Breakfasts Day 1 and Day 2:
2 local, pastured eggs fried in tallow or butter, salted with my homemade seasoning salt that includes kelp for minerals and iodine
1 cups of homemade kefir sprinkled with cinnamon
Lunches Day 1 and Day 2:
leftovers from dinners
Dinner Day 1:
Dinner Day 2:
Sprouted Chili with grass-fed beef and sprouted pinto beans, served over rice (but light on the rice for me)
Salad: same as Day 1
Dessert: dark chocolate round
oranges
soaked almonds
water kefir – brewed 5 days so hardly sweet at all
*******
Thank you, Wardeh, for sharing your food journal. I think it is interesting how so many of us are cutting back on carbs for weight management.

How do you do real food? If you are interested in sharing your Real Food Journal please contact me. I'd be glad to hear from you.