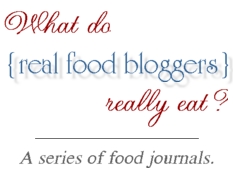 Today's food journal comes from Katie who writes Kitchen Stewardship, where you will find tons of information about real foods. In her own words…
This journal was from a stage in my diet when I chose to give up processed corn and soybean products, all white sugars, and unsoaked grains, with the compromise of dark chocolate. In that light, this food journal is a bit (much?) more "ideal" as far as nutrition than my life the rest of the year! You'll also notice perhaps more meatless meals than I would usually eat, as I was specifically going meatless twice a week; I generally aim for a meatless meal once a week but am not stringent about it.
Monday
Breakfast: Soaked oatmeal (with a little spelt flakes for phytase) with 1 spoonful of virgin coconut oil, cinnamon, raisins and raw milk
Lunch: beef barley soup with homemade stock, grassfed beef, soaked barley; sourdough focaccia, and a small glass of raw milk
Snack: half piece of homemade sourdough toast with homemade raw butter (frozen from last May for Vitamin D) and raw honey
Dinner: Sourdough pizza with store mozzarella cheese and pepperoni but homemade pizza sauce. Romaine lettuce salad (not even organic) with crispy sunflower seeds, organic carrot sticks, conventional brocoflower, with homemade garlic ranch dressings and pineapple slices.
Tuesday
Breakfast: soaked pancakes with real maple syrup and homemade butter
Lunch: Pastured Egg salad with homemade mayo on homemade sourdough crackers, leftover pizza.
Dinner: Chicken leek barley soup and soaked homemade biscuits, salad with Italian dressing, veggies.
Snack: Popcorn in coconut oil with butter, water kefir and dark chocolate
Wednesday
Breakfast: Scrambled eggs with cottage cheese, sourdough toast with butter and honey, sourdough pumpkin muffins, water kefir.
Lunch: Leftover beef barley soup, sourdough focaccia and raw milk.
Snack: Tropical power bar
Dinner: Shepherd's Pie with grassfed beef, tons of veggies, conventional red potatoes, salad with homemade ranch and raw milk.
Dessert: dark chocolate
Thursday
Breakfast: soaked oatmeal and green smoothies (raw milk, homemade yogurt, kale, kelp powder, frozen organic strawberries, summer peaches, and bananas)
Lunch: Veggie bean burrito
Snack: yogurt with blueberries frozen from summer, raw honey and soaked granola
Dinner: Cabbage soup and garlic salted sourdough toast
Snack: Apple, dark chocolate
Friday
Breakfast: (on the go) Pumpkin muffin, power bars
Snack: (while driving to get the raw milk from the farm) applesauce rolls and crispy nuts
Lunch: Black bean soup and sourdough toast, apple and peanut butter
Dinner: Eggs en cocotte with pesto and multigrain sourdough bread French toast
*****
Thank you, Katie, for sharing your food journal.

How do you do real food? If you are interested in sharing your Real Food Journal please contact me. I'd be glad to hear from you.