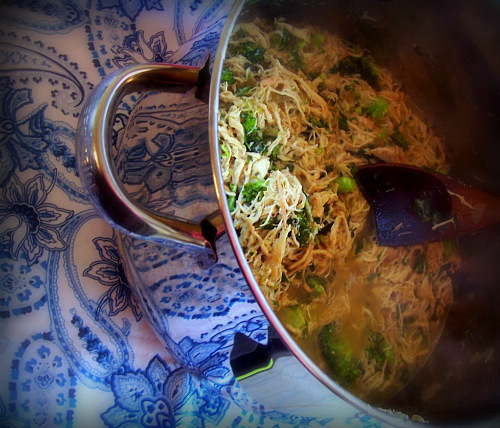 I know it sounds like a mouthful and a lot of work, but really this dish is as easy as it gets. Chicken, broccoli, and butter seem to have an affinity for one another. Throw in a sauce that makes itself and you have an easy to make gourmet meal.
Dandelion greens are everywhere – just check out your backyard. My toddler loves to collect the dandelion flowers for mama's apron pocket, so one day I brought a large bowl out with us for our morning trip to the clothesline. Once the laundry is hung and my pockets are full of little yellow flower heads we go off on a backyard foraging trip. Our boys love it when they feel like they are truly contributing.
So with little pudgy fists full of greens (that mama sifts from the grass) we come back inside for lunch. While they fill their bellies with leftovers from last night's dinner I start on this dish.
Starting dinner cooking at noon just seems to be working during this busy gardening time. That's the beauty of this dish – you can cook it for hours or just 30 minutes. It fits your schedule.
Served alongside a green salad and roasted potatoes this simple dish is good enough for company or the loving company you keep.
Chicken and Broccoli with Dandelion Greens in a Butter-Lemon Thyme Sauce
serves 6-8
Recipe Notes: Dandelion greens could be swapped for any green or even omitted if you do not care for them. If you do not have lemon thyme don't sweat it – just use regular thyme and add a little lemon zest or juice if you have it. Yes 12 tablespoons of butter, but it is rich and serves many. Finally, if you want to make this in 30 minutes and serve right away: cut and brown the chicken, add cooking liquids, and cook through, then procede with the rest of the recipe.
Ingredients
1 1/2 lb. boneless, skinless chicken pieces
1 cup chicken stock
12 tablespoons butter
3 celery stalks, chopped
1 medion onion, chopped
2.5 teaspoons dried lemon thyme
1/2 cup white wine
1 head of broccoli (~ 4 cups, chopped)
a few large handfuls of dandelion greens (~2 cups when finely chopped)
sea salt and pepper to taste
Directions
Combine chicken, stock, butter, celery, onion, white wine, and lemon thyme in a large pot. Bring to a simmer. Reduce heat to low and cook 3-4 hours, stirring occasionally
While the chicken mixture is cooking prepare the vegetables.
15 minutes before serving add the broccoli and dandelion greens. Cook, covered, until broccoli is nearly tender. Remove from heat, taste for seasoning and add salt and plenty of black pepper to taste. Serve with a green salad and roasted potatoes.