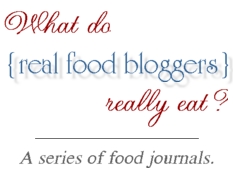 Today's food journal comes from Jenn, The Leftover Queen. Jenn has a great blog detailing her homestead and traditional food adventures. She says…
I don't have any dietary restrictions, really, but I know that my body and brain really both need a lot of good healthy fat. I am committed to eating locally and seasonally. Luckily I live in a community that supports local food and products, so there is a lot available. Buckwheat is my favorite grain and works really well for me, although I do eat other grains in moderation, if they are soaked. This menu features more grains than usual, because this was what I was eating in the middle of a big move, so I was relying more on convenience foods. I don't cook with white flour or sugar, and prefer foods sweetened with maple syrup, date sugar or honey. I am also in the process of weaning off my coffee addiction, which is why you see teeccino in some of my menus.

Day 1
Breakfast: 1 – Homemade oat cake split in half. One piece eaten with leftover egg salad and the other with Norwegian Brunost (brown whey cheese), raw milk latte – all espresso
Snack: half an orange.
Lunch: Smoked Mackerel Salad on top of local microgreens dressed w/ fresh lemon juice and olive oil.
Snack: 2 homemade whole wheat and muesli chip cookies
Dinner: Homemade Chicken Mole with potatoes and carrots served w/ sprouted corn tortillas and one glass of locally brewed coffehouse stout
Dessert: Kefir smoothie with frozen organic blueberries, fair trade cocoa powder, cinnamon and local maple syrup.
Day 2
Breakfast: "Breakfast of Champions" with sprouted buckwheat, poached eggs, sautéed cherry tomatoes and kale, raw milk latte – 2/3 espresso, 1/3 teeccino (herbal coffee made from organic carob, chicory, dates, almonds, figs and vanilla extract).
Snack: half an orange and glass of homemade kefir
Lunch: Chicken Mole Quesadilla made with leftover chicken mole, Vermont cheddar, with plain yogurt and guacamole on the side
Snack: Handful of dried organic apple slices
Dinner: Local grass-fed beef burger on naan bread with mango chutney and homemade yogurt, served with oven roasted potatoes with ketchup and microgreens salad with olive oil and balsamic vinegar. One glass of coffeehouse stout
Dessert: Locally made cinnamon ice cream, made from local cream from a dedicated herd.
Day 3
Breakfast: Sourdough French Toast (soaked overnight with homemade yogurt and local cream) Bake. Made w/ local eggs, cinnamon and topped with local maple syrup. Served with more yogurt. Raw milk latte – 2/3 espresso/ 1/3 teeccino
Snack: Half an orange and glass of homemade kefir
Lunch: Huge salad w/ local microgreens, wild caught smoked salmon, Vermont goat cheese, tomatoes, onions, marcona almonds, flax seeds, and homemade mustard balsamic vinaigrette.
Snack: slice of Trader Joe's beef jerky
Dinner: Chicken Tagine – chicken breasts cooked in a tagine with saffron, cumin, coriander, turmeric and cinnamon stewed with organic carrots, purple potatoes, onions and sliced tomatoes, glass of Argentine Malbec.
Dessert: Smoothie w/ almond milk, medjool dates, coconut peanut butter, ½ avocado, fair trade cocoa powder and local maple.
About Jenn
Jenn is a homespun cook who blogs about using leftovers and pantry essentials to make frugal, healthy and delicious meals, using local, seasonal and traditional foods. She gives her readers tips on how to easily incorporate this philosophy into busy lifestyles, advocating healthy eating for young, old, economically challenged and everyone in between. Jenn loves to discuss fitness as it relates to food. She enjoys activities like archery, weight lifting, martial arts and hiking. This has led to a passion for creating nourishing foods full of the nutrients needed to give her the energy to do what she loves