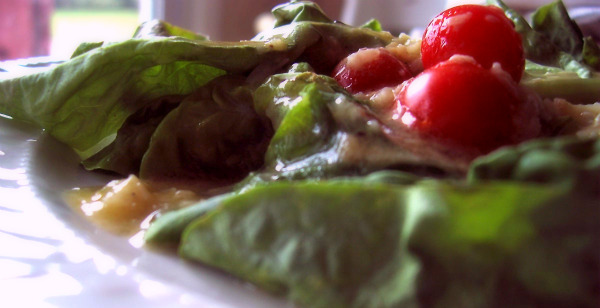 For as long as I can remember I have been draw to the Caesar salad on any menu. The crunchy lettuce, the substantial chicken, the buttery croutons, and the main event – the dressing. This salad dressing is pungent with garlic, salty with fresh Parmesan, tangy with lemon, and has such a depth of flavor from anchovies. It is just so good.
It can also be a bit intimidating to make at home because most of us are not used to raw egg yolks or anchovies. But let me tell you, these two ingredient make this dressing. The raw egg yolk of the homemade olive oil mayonnaise is what binds everything together into a creamy dream. The anchovies do not make this taste fishy, but rather bring a rich meatiness that round out all of the other flavors.
Plus with the raw egg yolk, raw cheese, and good fats from the anchovies it is a super nourishing top to any salad, or in my case anything I can pour it over
Caesar Salad Dressing
Ingredients
1/3 cup homemade olive oil mayonnaise
juice of half a lemon
2 garlic cloves
2 anchovy fillets
pinch of coarse sea salt
1/4 cup raw parmesan cheese
pinch mustard powder (or prepared Dijon mustard)
fresh cracked black pepper
Directions
Make a paste of the garlic and anchovies: Roughly chop garlic on cutting board. Lay anchovy fillets over garlic and sprinkle with coarse sea salt. Chop anchovies into garlic. Now turn the knife on its side with the blade away from you. Place the side of the knife on top of the garlic and anchovy mixture and push down and scrape the mixture towards you. This should smash the two together roughly. Continue chopping and scraping mixture until a rough paste forms.
In a pint jar combine mayonnaise, anchovy-garlic paste, parmesan cheese, mustard powder, and lots of black pepper. With the lid on shake the jar until well combined. Thin with water as desired. Serve over fresh greens with an extra grating of parmesan or serve on top of fish or chicken. Keeps for a few days in the refrigerator.
Do you have a favorite salad dressing that you'd like to make at home?