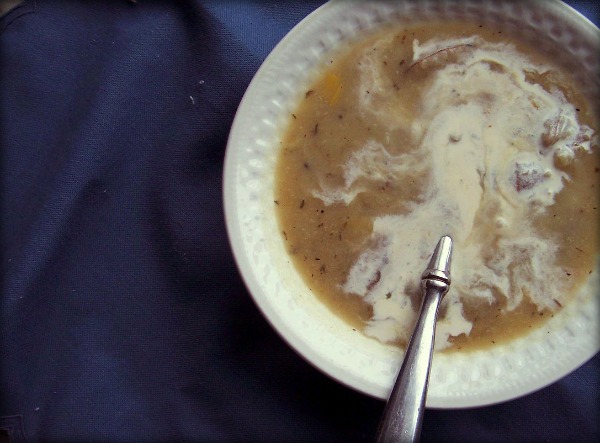 It's the last week of our two month grocery shopping hiatus and honestly all I want to eat are lemons. Big, juicy, cleansing, bright lemons from far, far away.
We're not eating lemons, though, we're eating soup. Today I bring you the epitome of frugal, simple food. It's not brightly colored, brightly flavored, or very photogenic. But it will feed your family for a couple of bucks and take you about 20 minutes to make.
There was a time when I thought food had to be complicated to taste good. Yummy food usually came out of a wrapper of some sort, sprinkled with some sort of fairy tasty dust that you couldn't possibly replicate at home, right?
This was especially true of soups. Granted what made soups delicious then was probably the MSG and other flavor enhancers that you would never see labeled in a pretty glass jar in your pantry. But that soup always tasted impossibly good. I just couldn't imagine making it at home.
And then I stopped eating MSG, and packaged anything, and began cooking with foods that don't have labels. And I began needing less from the grocery store, and started to believe that maybe, just maybe we have been duped.
An entire pot of potato-onion soup that tastes better than anything out of a container (or restaurant) can cost less than $2 and feed 5-6 people. It's funny how corporations and restaurants don't add that to the label.
Simple food like this won't make a corporation rich, but it will feed your family cheaply and easily. And you may even be surprised at how something so very simple can be so very tasty.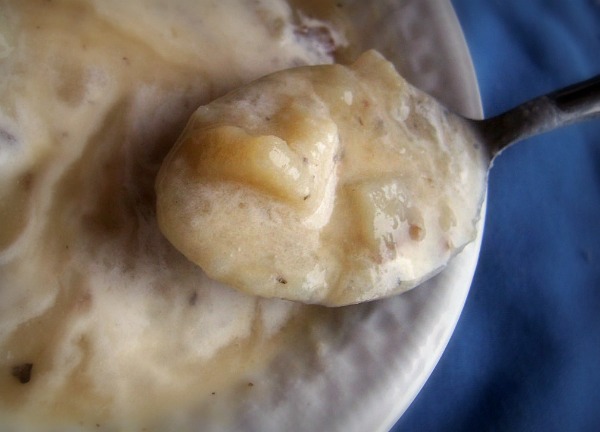 Potato-Onion Soup
Ingredients
4 Tablespoons butter
3 medium onions, diced
8-10 large potatoes, cut into 1/4" dice
6-8 cups of stock or water
1 teaspoon dried thyme
salt and pepper
raw or cultured cream for garnish (optional)
Directions
Heat a Dutch oven over medium-low heat. Add butter. Once butter starts to melt add diced onions and a pinch of sea salt. Saute, stirring occasionally, until onions are translucent.
Add potatoes to the pot, pour over stock or water until just covered, and season with thyme, sea salt, and pepper. Turn heat up to medium and bring to a simmer. Cover pot, turn heat back down to low, and simmer approximately 15 minutes, or until potatoes are tender.
Remove from heat and blend if desired. I like to just mash it a bit and leave the texture somewhat rustic. Taste for seasoning and add more salt and pepper if needed.
Serve bowls with a drizzle of raw or cultured cream and enjoy.