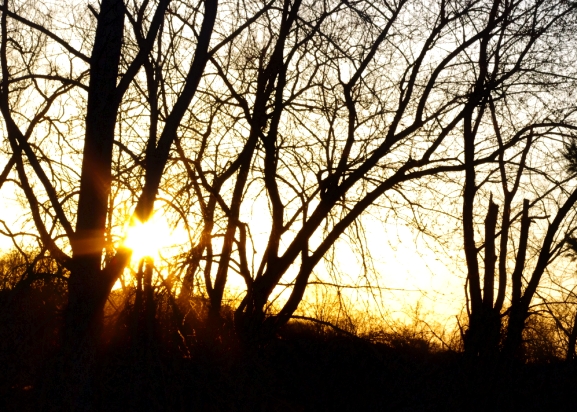 I really enjoyed reading Chandelle's post recently and have had a few questions about what things are really like, so last week I journaled our day with words and pictures.
I roll out of bed at 5:40. It's still dark and quiet and lovely. I strain off my morning iced green chai and add the photos I edited yesterday to the home dairying post. I hit publish.
Thirty minutes later the papa is up so I read for a bit in the last of the quiet while I listen to nothing but the sound of the shower.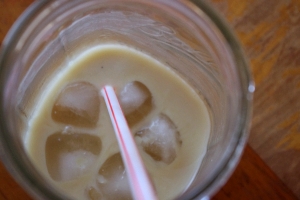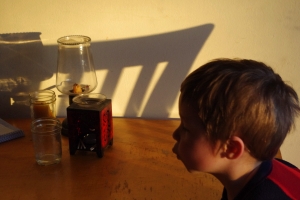 Just before seven I hear a little voice: "Can I get up please, mama?" says our 2.5 year old. I lift him (and his blankie) out of his crib, and he snuggles close, still too tired to be up. I put him on the chair next to me at the stove as I heat a cast-iron skillet to fry leftover oatmeal into oatcakes. The boys and papa gobble them up with butter, raw honey, and frozen blueberries.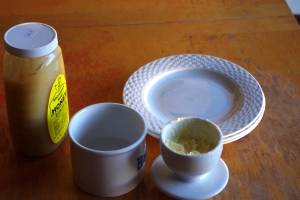 Sometime between frying and flipping I start a load of laundry.
Just before eight we send off the papa and the youngest and I begin folding the laundry from yesterday. Our oldest helps me put it away and while doing so starts asking about butterflies: "Do they make butter?" So I put a book about butterflies on hold at the library.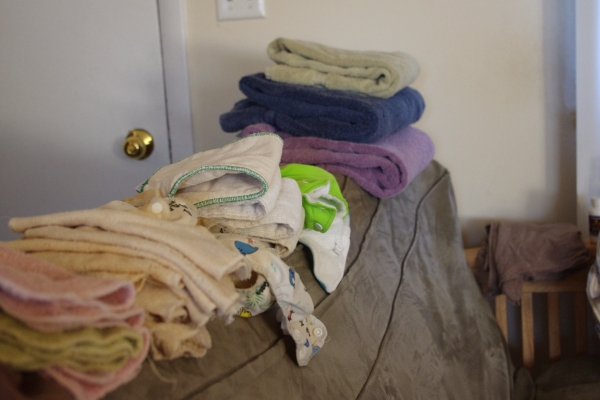 I set up the boys with blocks and books while I take a quick shower. I cook and eat my breakfast while the boys have a snack and by 9:30 we start school. Our youngest colors while I help the big man with workbooks – counting by 2s, writing, and reading. In between I edit photos to send to family and friends and send off a bio and photo for an upcoming blog project.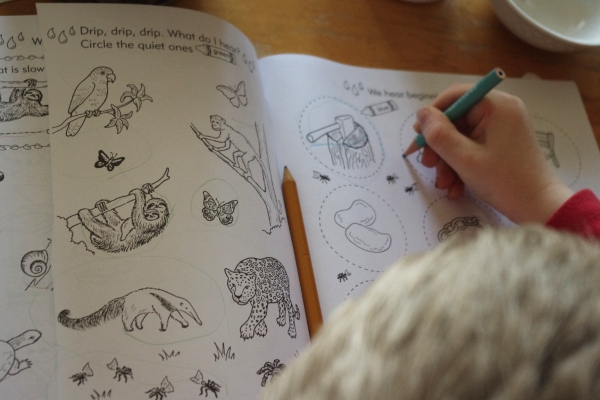 By 11:15 we're almost done with school so I start in on this mess…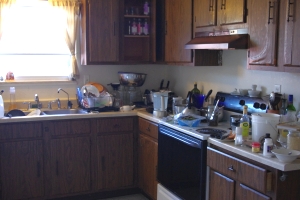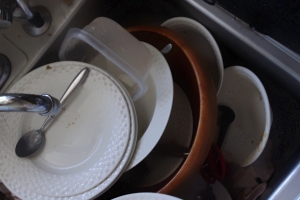 …while starting lunch. The boys are done with school so I send them out to the compost bin with a big bowl while I continue with chores.
At 12:00 the papa is home for lunch. He eats his lunch outside while the boys run around and I take notes on the recipe I am testing. He comes in, we chat about future plans and dreams and then he's back to work while I photograph the recipe I tested. The boys come in, devour their lunch, and grab a book each while I whip up a salad dressing to test on the evening's dinner.
By 1:30 we have sung songs and gone down for naps. Since there are many dishes to do and laundry to hang I decide preparing and planting another bed in the garden will have to wait until tomorrow. Instead I take the mandatory nap rest period where I work on or read blogs, read books, do some sewing or other quiet activity.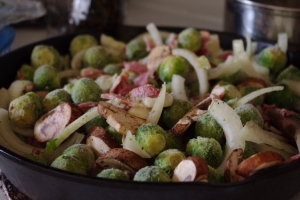 By 3:30 the boys are up and it's time to start dinner and head out to hang laundry on the line. I decide it's too late to start another recipe testing adventure so instead throw a sliced onion, 2 lbs of frozen brussels sprouts, 1/2 carton of mushrooms, and a few strips of diced beef bacon into my trusty cast-iron skillet, drizzle with an obscene amount of coconut oil (lard is waiting to be rendered), and season with salt and pepper. Into a 400 degree oven while we head out to hang laundry.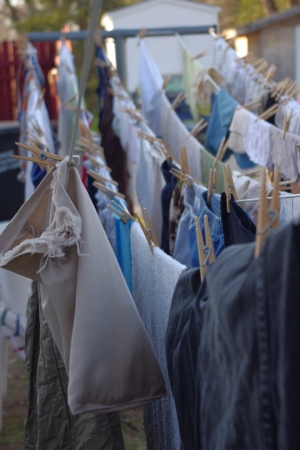 While outside I can't resist the 60+ degree temperatures and the urgency of spring so I plant 4 rows of carrots.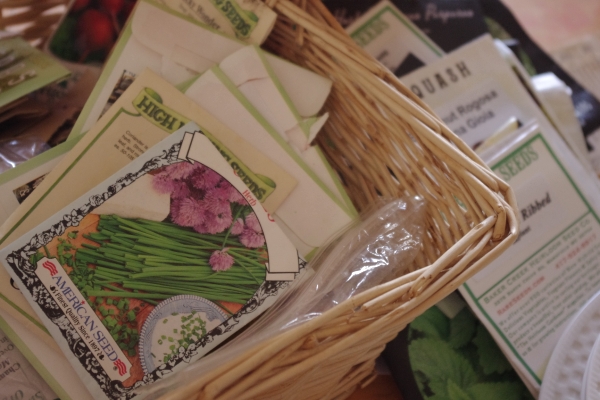 By 5:30 the papa is home and it's time for dinner – roasted vegetables plus a salad. The boys tear up two servings of Brussels sprouts and we all agree we'll be growing lots of those someday. The papa goes backs for thirds on the salad, mostly for the dressing. I take that as a sign of recipe-testing success.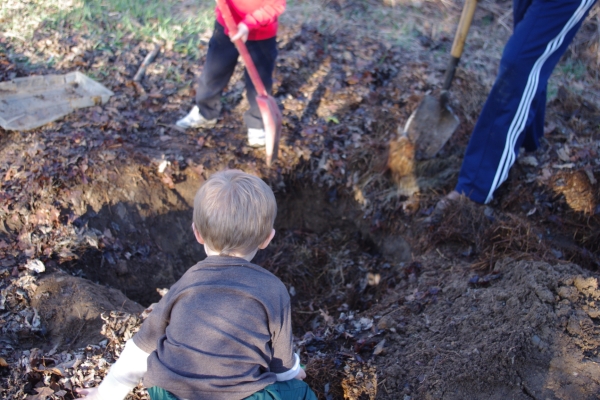 After dinner the boys head out with papa to help fill in last year's makeshift root cellar. I sit down for a few to read and rest and then start in on dishes… lots of dishes.
By 7:30 I am about 2/3 of the way through dishes when a friend stops by. I stop what I'm doing to say hi and then help the boys with some writing and coloring. By 8:00 it is time for jammies and toothbrushes and songs. I put them to bed and join the political and theological discussion going on in the living room.
By 11:00 we all decide it's very late. We say our good-byes and head to bed, knowing that tomorrow morning I probably will not rise before six.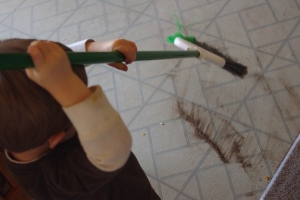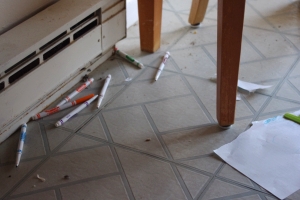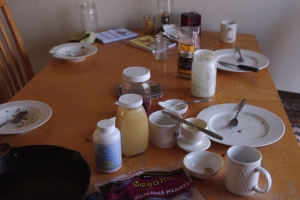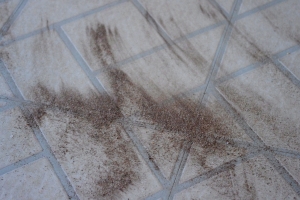 And just in case this list didn't show it…
Our home is lived in and pretty much never looks like a magazine.
At one point in the day I spoke disrespectfully to my husband and sought out his forgiveness.
Little ones help with chores which means at the end of the day a dirt pile may remain if mama forgot to sweep up afterward.
Laundry stays on the line overnight when I don't hang it up until after naps.
The last of the dishes are done the next morning when a friend stops by unexpectedly.
Some days all we do is basic upkeep.
This is our life – full, messy, real – and I wouldn't trade it for anything in a magazine.