Every once in awhile an opportunity comes across the Nourishing Days desk that is too good to pass up. Today I'd like to share one such opportunity with you. (And as you will see by the numbers below, it has gotten even better in the last 24 hours and since the video was made!)
Two years ago I wrote, developed, and photographed recipes for Simple Food for spring and winter. I was recently asked to contribute those books to a larger Healthy Living book bundle in which 31 books 34 books on a variety of natural living topics come together at a huge discount.
This book bundle has grown (even since my husband made the YouTube preview video) to include a variety of topics from natural health to real food recipes to natural birthing to gardening and homesteading. I've even reviewed a couple of these books and loved them like Sourdough A to Z and Herbal Nurturing. And there are 27 30 more books I haven't even mentioned yet!
In bundle form these books are available for 10% of the total costs of the individual books (or a $224 $271 savings!). To see all the amazing books and deals in this package click here.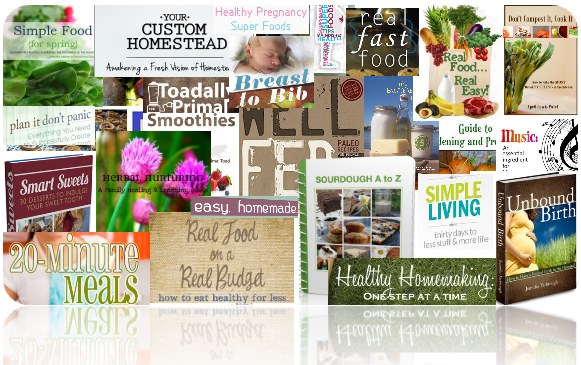 You will probably never see this collection of books for this price ever again. So whether you buy this for gifts or for your own collection, don't miss out. The sale only lasts for 5 days, from Monday, October 29th to Friday, November 2nd.
We will make the purchase link widely available on Nourishing Days next week starting Monday the 29th . Feel free to tell your friends, spread around our YouTube video, and then come back to Nourishing Days when the sale goes live!
The Healthy Living eBook Bundle – Coming Soon for 5 Days Only!