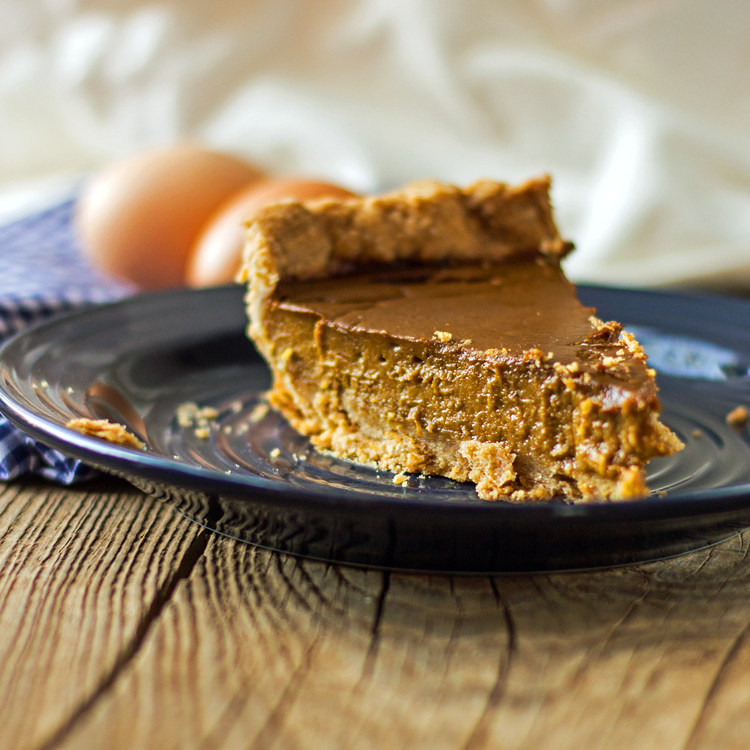 I have taken to using the moniker Homestead in recipe titles now, apparently. This is more accidental than deliberate though now that I think through it a little more, it kind of works.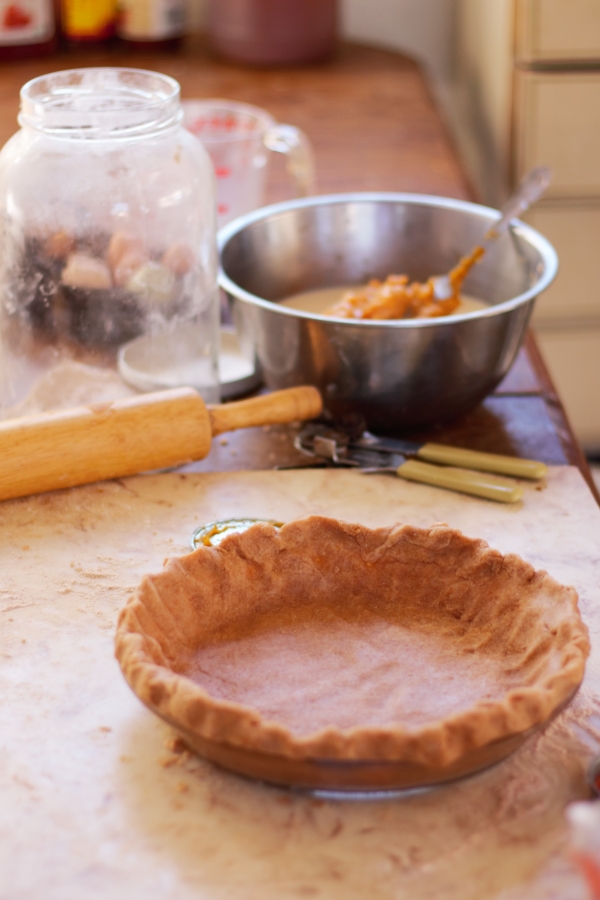 My very (un)professional thinking is that food can qualify for this title if a.) it uses common homestead ingredients (eggs and milk in this recipe, for instance) and b.) feeds a hungry work crew with good old simple food. There is a recipe for Homestead Chi in Traditionally Fermented Foods, for instance, that is named as such because it makes use of one of our most fruitful crops – the humble turnip.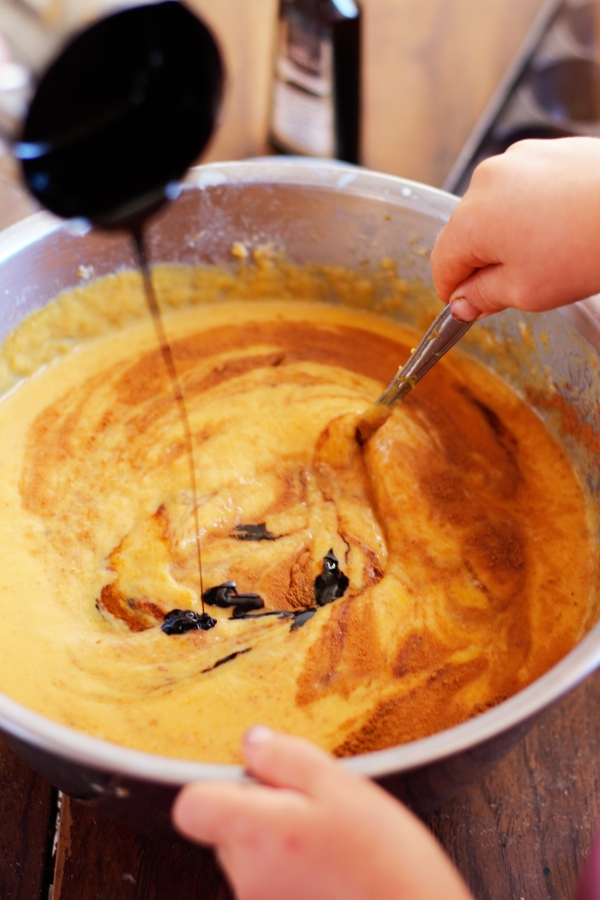 Similarly, this pie uses eggs from our hens and milk from our goats to create a custard. It is sweetened with a combination of honey and molasses, balancing all of the components you want in a pumpkin pie – sweet, rich, and spicy. A homegrown pumpkin or squash would work beautifully here and you betcha I've got that on the list for next summer's garden.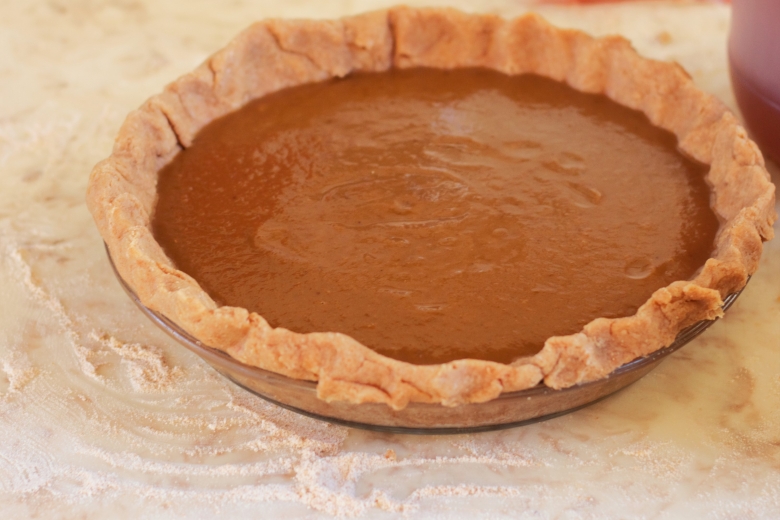 The result is a nicely spiced, rich and creamy, gently-sweetened pumpkin pie with less than half of the sugar of the usual suspects. The top of the custard turns a deep mahogany upon baking while the middle retains a very pumpkin-like appearance.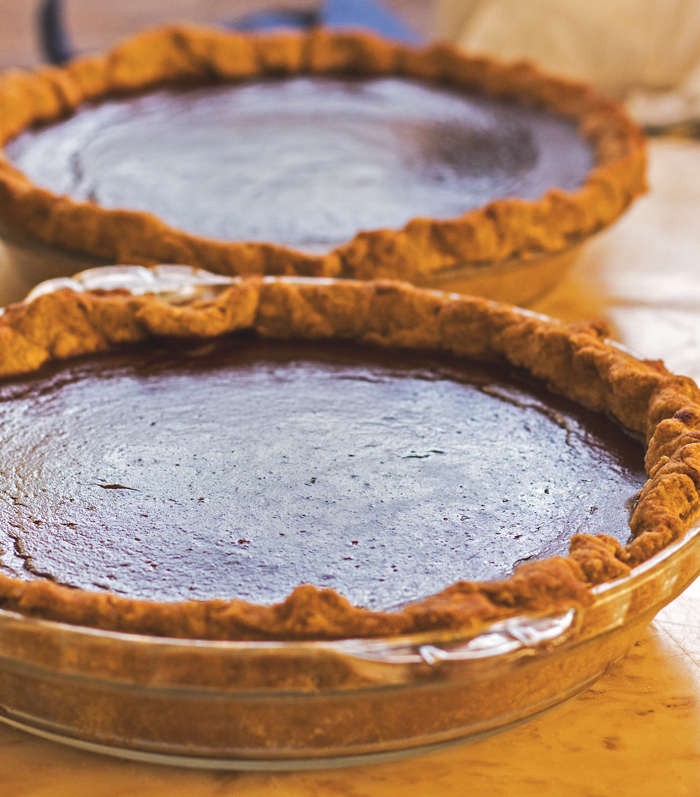 At the end of the day, when company came for a visit, we all thought this was a pumpkin pie to repeat. I decided I would write down the recipe so that we could actually recreate it a second time, and share it here with you. It's so good, you don't really need to gild this lily, but might I recommend whipped cream made in a mason jar as a possible topping?
Homestead Honey-Molasses Pumpkin Pie
Your pie crust options are many here, but might I make a few recommendations? If you are looking for a Gluten-Free Pie Crust, this one is always a winner. If you are looking for a Sourdough Rye Pie Crust, check out the flaky deliciousness in my book, 100% Rye. Otherwise, wing it with 2 cups flour, 1.25 cups fat (butter, lard, palm shortening), a pinch of salt, and cool water as needed.
Makes two 9″ pies
Ingredients
2 pie crusts (see note above)
2 cans pumpkin
4 eggs
2 cups whole milk (I used goat milk)
1/2 cup honey
1/4 cup molasses
1 1/4 teaspoons salt
1 Tablespoon cinnamon
1 teaspoon ginger
1 teaspoon nutmeg
2 teaspoons vanilla extract
Directions
Preheat oven to 425 degrees.
Make and roll pie crusts. Line two 9″ pie pans with crust and flute edges as desired.
Mix all other ingredients in a large mixing bowl until completely homogenous. Pour into prepared pie crusts and place in the preheated oven. Bake for 15 minutes and then turn the heat down to 350 degrees. Bake an additional 30 – 40 minutes, or until just set in the middle.
Remove and allow to cool completely before slicing and serving.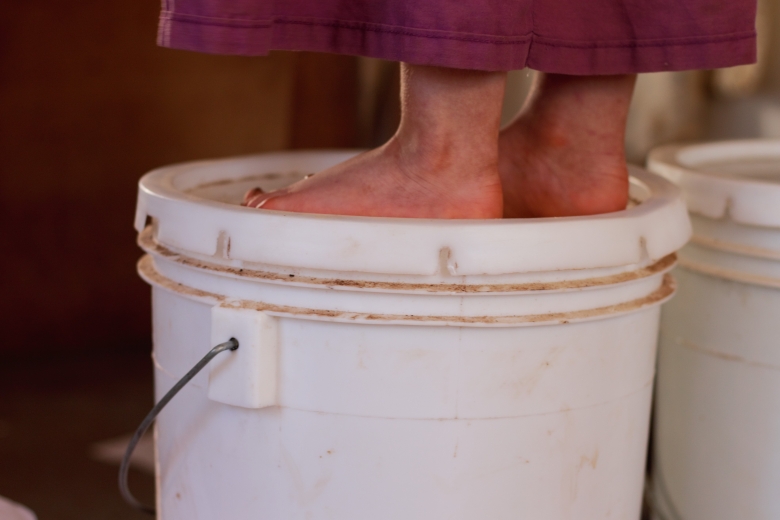 P.S. Coconut oil buckets are just the right height for little pie-maker stools.