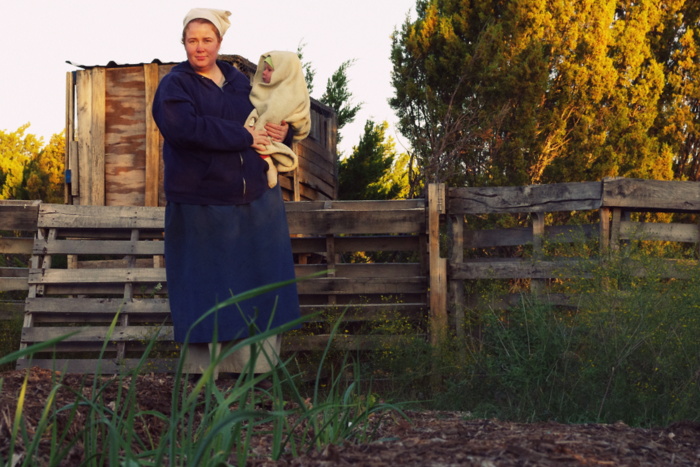 Hi, and welcome to Nourishing Days!
We have five children: Elijah, Abram, Annabelle, Ruth, and Joshua. We live on an off-grid homestead in Texas. Shannon does occasional work as a freelance writer and cookbook author, sharing her love for traditional foods, fermentation, and sustainability. Stewart works in web development and design and does much of the physical aspects of building our homestead.
Nourishing Days began in 2009 as a way to share some of the real food, natural living adventures I was taking and also to connect with others. While real food, sustainability, and fermentation have always been present in this space, I began detailing the joys and struggles of moving off-grid to start a sustainable homestead in 2011. The real food and fermentation continue as well.
That's the short story.
The long story is this: After five years of prayer and seeking out a homestead and community, we took a jump in 2011. Stewart quit his job, we sold or got rid of nearly half of our stuff, and we packed up our two young boys (and this pregnant Mama) and moved from Michigan to Texas.
We arrived to two bare acres of eroded soil on the heels of one of the worst droughts Texas has seen. We moved into a camper, dug an outhouse hole, and began our journey of stewarding the land. We lived in that camper – along with a makeshift cabin that made 300 square feet in total – for 2.5 years.
In that time we began the process of regenerating the soil; building infrastructure like fences, chicken coops, orchards, and gardens; and then beginning work on a new, more permanent 400 square foot cabin. We continue to build onto that today.
We utilize solar panels to run laptops, a small fridge, and a few lights and other things. We haul water or utilize solar power to pump it. We've washed laundry by hand, and at the laundromat when our water is low. We're working on procuring more animals, planting perennial fruit trees, and are always expanding the gardens.
The goal is to create a sustainable and nutrient-dense food system on our little plot of land while working alongside each other, our children, and our community.
We are, in many respects, complete greenhorns. We didn't come into this with a ton of money, so we're working and building incrementally, to avoid debt as much as possible. It's not pretty, it hasn't always been easy, but it has been incredibly edifying and rewarding. Because of the work necessary to regenerate our land, it may be a very, very long time before we are producing much of our own food.
We're okay with that and simply hope to be molded by that process while carving out a life beside our children and community.
As interesting as all the off-grid living and techniques are we realize that we are just pilgrims passing through. That our days are as a vapor and a speck of time. Therefore, the spiritual lessons from daily living and seeking the Lord our the greatest treasure we have. We have too frequently in our journey of life been too focused on the temporal and not enough on the eternal. What shall it profit a man if he shall gain the whole world, or even just a homestead, and lose his own soul? Therefore, we urge you to ponder your soul, eternity, and the only one who can grant eternal life.
If you'd like to say hello feel free to drop us a line. You can receive future updates free in your inbox:
Thank you for stopping by!