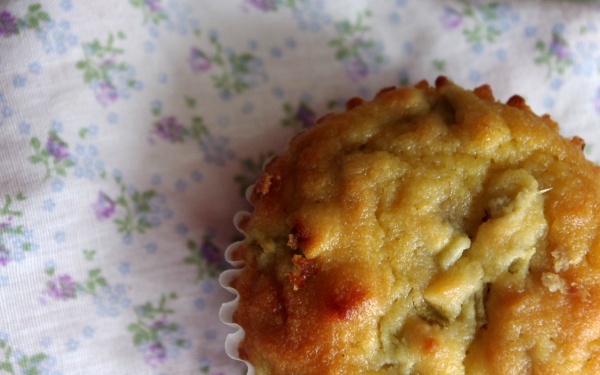 This recipes is for the northerners whose peas are just producing and whose rhubarb is finally winding up. That is, unless of course, those of you from the south are still finding rhubarb.
I was given some rhubarb by a sweet friend of mine (hi Rene!) recently and a week later found it in my crisper drawer.
Whoops.
The nice thing is rhubarb seems to keep pretty well and it's also a nice spring purgative, working the last bit of winter funk out of you. These muffins, grain-free and slightly sweetened with honey reminded me of my grandmother's rhubarb pies – a touch sweet but tart enough to keep you on your toes.
Coconut Flour Rhubarb Muffins
makes about 18 muffins
Ingredients

1 cup coconut flour
3/4 teaspoon sea salt
1 teaspoon baking soda
10 eggs at room temperature
1/2 cup milk
1/3 cup honey
1 1/2 tablespoons vanilla extract
2 cups finely diced rhubarb
Directions
Preheat oven to 375 degrees.
In a small bowl combine the coconut flour, sea salt, and baking soda. Sift together or whisk until well combined.
In a larger bowl beat eggs and mix in milk, honey, and vanilla extract.
Combine the dry and wet ingredients in the larger bowl and when almost completely combined stir in diced rhubarb.
Butter a muffin pan (these will stick to muffin papers) and fill the muffin cups about 3/4 full of batter. (An ice cream scoop is perfect for this.)
Bake in a 375 degree oven for 15-20 minutes, or until nicely browned on top and done through. The tops will get darker than the average muffin due to the use of honey rather than sugar, but it should not affect the flavor.
Cool and serve.