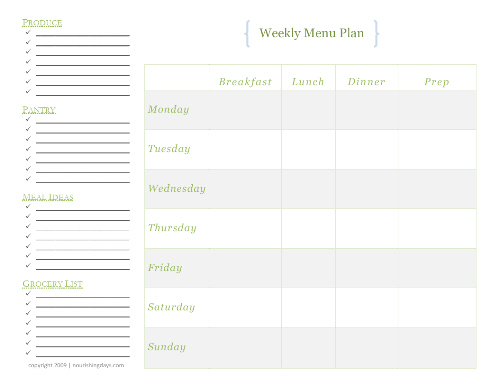 I find that planning our weekly menus saves time, money and energy. During this busy time of gardening, harvesting and preserving there are even more obstacles to overcome. For one I am currently inundated with produce from our csa, our garden (well, sort of), and the farmers market. In order to prevent waste and keep up with all of the fresh produce I had to develop a new menu planner with a few new features. Let me show you how I use these different features to simplify my meal planning.
Produce
This is where I list the produce that we have on hand that needs to get used within the week. Some things like carrots and beets would be left off of the list in favor of more perishable items like greens and berries. By having this list I am able to plan my meals around what needs to get eaten immediately, thereby avoiding waste.
Pantry
This is where I list the items that I have plenty of in the pantry or refrigerator/freezer. So when I have 4 quarts of homemade chicken stock sitting in there I know I need to plan a couple of meals like soups or beans cooked in stock.
Meal Ideas
With my old menu planner I always wanted a space where I could just jot down some ideas for meals that sounded good or that could be made given my pantry and produce lists. This area allows me to jot down 7 meals in no particular order. I can then sort them out by days in the actual menu plan.
Grocery List
This one speaks for itself. Right now I am finding that I don't have much of a need for the grocery store, but when there is a meal on my meal ideas list that requires a special ingredient I can jot it down here.
I find that this new menu plan is working well for me during this busy season of abundance. I hope it helps you as well.
This post is a contribution to real food Wednesday.