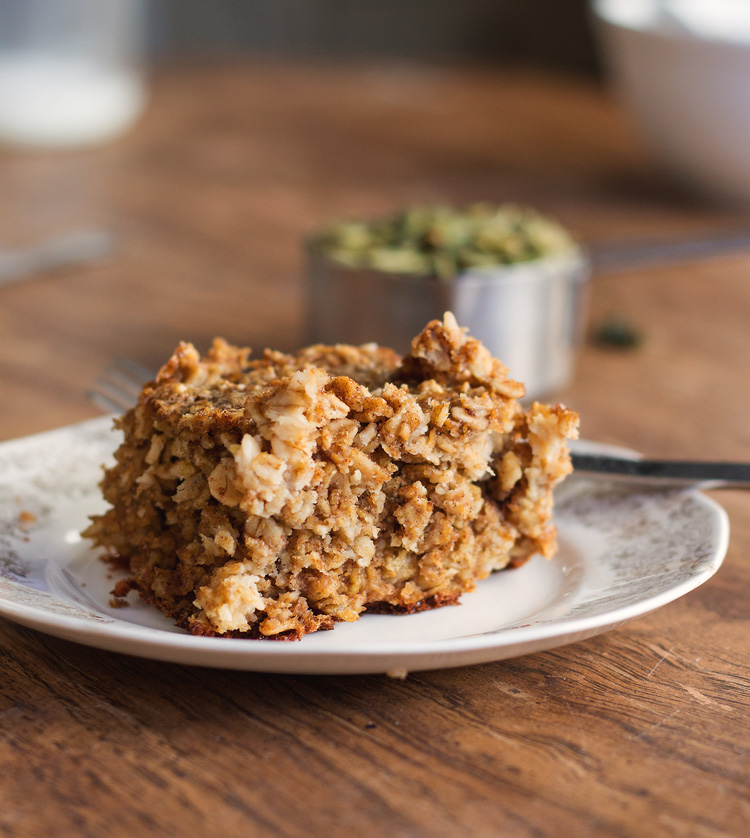 Sometimes I forget about a recipe for literally years. We tend to get into eating the same things for weeks or months at a time and then fall desperately off the bandwagon for whatever reason. This Soaked, Baked Molasses-Sweetened Oatmeal is one such example.
I started making this dish when it was just Stewart, the boys, and I in a little suburban duplex whose backyard held our very first garden. I baked it up and for days we'd have snacks and breakfast. Three more babies and two very big and hungry boys later, a meal and a snack is about all we get out of a pan.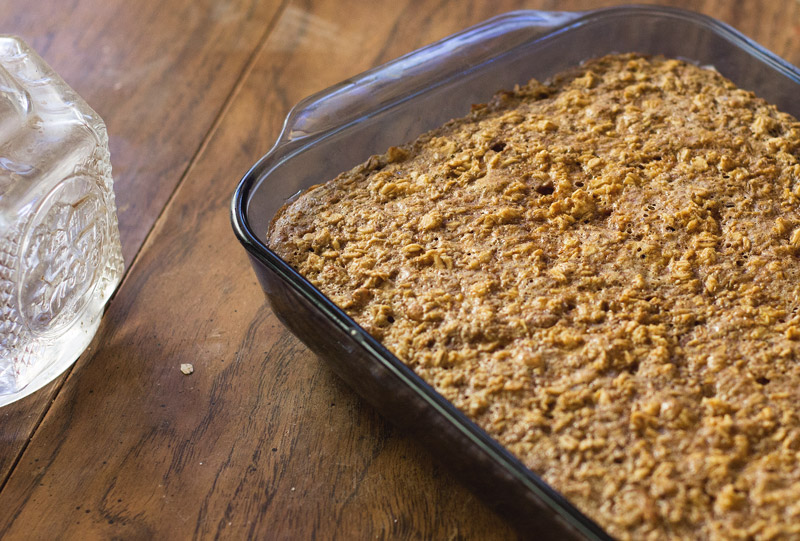 Recently I've gotten back on the oat wagon and with plenty of milk and eggs around, it makes a pretty economical dish.I like to soak the oats at least overnight and up to 24 hours to get them good and fermented. Instead of added butter or coconut oil, I changed it up to use a bit of soured cream to the dairy mixture but you could just use all whole milk. And feel free to toss in whatever seasonal fruit or spices you like.
Serve it in a bowl with some kefir, milk, or cream and you are ready to start hauling in firewood and muck out the barn. The jury's still out on whether this breakfast helps you make it through your morning long division, or so I am told.
Soaked, Baked Oatmeal
6 cups old fashioned rolled oats
3 cups dairy (about 2.5 cups milk + .5 cup sour cream or kefir)
8 large eggs, beaten
1/2 cup sweetener (honey, molasses, sucanat, etc.)
2 teaspoons vanilla extract
1 tablespoon cinnamon
1 teaspoons baking soda
1.5 teaspoon sea salt
1 cup add-ins (chopped fruit or nuts)
Directions
Soak the oats: The morning before you want to make this for breakfast (~24 hours) combine the oats and dairy. Pat it down a little so that it is mostly one large "dough". Let sit in a warm place until the next morning.
In the morning, preheat the oven to 350 degrees. Place the bowl of soaking oats on top of the oven to warm up a bit while you grease a 9×13″ baking pan.
Add the eggs to the oatmeal ingredients and mix in thoroughly. You will have to use a wooden spoon to break up the oatmeal and evenly disburse the egg mixture. Add all remaining ingredients and blend well.
Pour into the buttered pan and bake at 350 degrees for 30-35 minutes, or until a toothpick comes out clean.
Serve warm with milk or milk kefir.