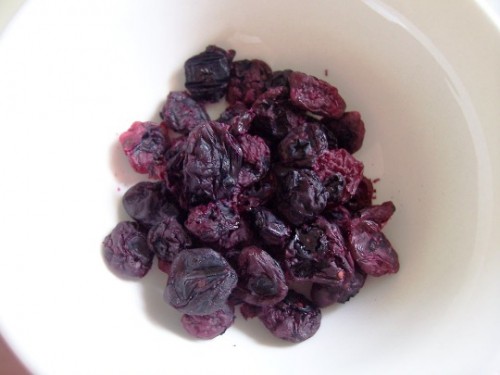 We are blessed to have a u-pick blueberry farm within five minutes of our home. That means that we can just jump in the car with our boys and head over for an hour or two of picking on a Sunday afternoon or weeknight. They opened less than two weeks ago and we have picked forty pounds so far. We are hoping to at least double that number by the end of the season.
Blueberries are such an easy fruit to work with. Unlike strawberries you do not have to hull them and unlike stone fruits, apples or pears there is no pitting or coring involved. Thus far my preservation methods have been dehydrating or freezing.
In the comments Jessie asked me if I blanched the blueberries before dehydrating and I replied no, I simply threw them in after a water-vinegar wash. Jessie if you're reading this I have changed my tune. After your question I did a bit more research and thought I would give blanching them a try. It does seem to help with more even drying. I blanched and shocked the batch that is currently in the dehydrator and am finding that they come out more like raisins and less like crunchy blueberry chips, though both are equally delicious. If you have lots of blueberries and want to dehydrate them here is the method that has worked for me…
How to Blanch and Dehydrate Blueberries
Wash blueberries.
Plunge into boiling water for 25-30 seconds. You are waiting for the skins to just start to crack. This is the difference between crunchy, papery blueberries and more evenly dried blueberries.
Remove them using a slotted spoon or small stainless steel sieve.
Plunge them into icy cold water.
Remove them, drain off as much water as possible and place them in an even layer in your dehydrator.
The frozen ones I plan to defrost and make into jam next week so that they do not take up precious freezer space.
With all of these blueberries, the pickles that I have been making, the csa vegetables that I have been freezing, the garden that keeps calling my name and the company we will be welcoming this weekend I won't be doing much blogging until the beginning of next week. But tomorrow I hope to see you all here for food roots.
What are you picking/growing/preserving these days?