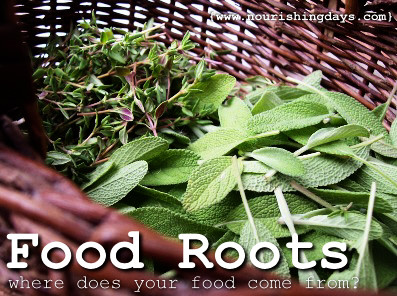 "Or what if I had simply grown up in a time when food was seasonal? When there was, in each year, a time of more and a time of less? When food was not just there in packages on the supermarket shelf all year?"
~ Jessica Prentice ~
Welcome to another edition of Food Roots!
Our food system is destroying the soil, wasting valuable resources and making us sick. The only thing that is sustainable and the only thing that can reverse the many complications of a broken food system is to get back to our food roots. We must plant the seeds ourselves. We must shake the hand of the farmer who grows our food. We must take back our food system.
Where Does My Food Come From?
Temperatures are now dropping into the 50s and we are now eating fall foods full on. Winter squash graces our table several times a week – sometimes mashed with butter, other times roasted with vegetables and still other nights in the form of spaghetti squash covered in the abundance of red peppers we are receiving. Kale, lettuce, and spinach are bursting out of our refrigerator and I am scrambling to use it up before the dreaded wilt takes hold.
Monday saw me in the kitchen throughout the day chopping cabbage, carrots, onions, and beets for lacto-fermentation. I now have 3/4 of a gallon each of cortido and lacto-fermented beets that will provide needed enzymes when nothing raw can be picked or eaten.
These cooler temperatures have us squirreling away food as fast as we can. It just feels like a necessity, even though we could visit the grocery store any time. I suppose that is another part of choosing production over consumption, as I wrote about yesterday. The natural rhythm of cold temperatures equaling food storage just makes sense and feels right.
We were also pleased to sign up for another 3 weeks of our CSA as well as a "Thanksgiving share" this week. We pick our raw milk up at this lovely farm and it makes sense to glean whatever fresh, organic food we can from these people who we know actually care about the way in which their food is produced. It is a blessing, indeed.
So I ask you again…

Where does your food come from?
To participate in Food Roots…
create a blog post pertaining to local, seasonal foods or what you are doing to find your food's roots.
in your post add a link back here so that others can benefit from everyone's information and encouragement.
add your name and url to mr. linky below.
Feel free to use the Food Roots banner above, if you wish. If you do not have a blog, please share your thoughts in the comments.
I can't wait to see what you all come up with. Thank you for participating!