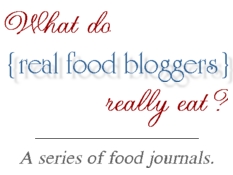 Today's real food journal comes from Sara of Edible. Sara eats a primarily "paleo" diet, meaning she stays away from grains, beans, sugar, and most dairy.
In her own words…
I follow a Paleo/Primal diet for my health in general, but also to lose weight. The rules I follow are not as restricted as some Paleolithic diets are. I do eat some dairy and cured meats, I drink wine and will indulge in chocolate occasionally. One meal per month I eat whatever I want. The way I see it, the goal of eating this way is to maximize the benefits of a Paleolithic lifestyle, not to torture yourself.
Sara's Food Journal
Breakfast:
1 cup organic shade-grown coffee, with 1 T. cream
¼ cup macadamia nuts
¼ cup sunflower seeds
1 cup blackberries
1 liter cold water
Lunch:
Mediterranean Salad
5 ounces leftover chicken
3 cups mixed organic baby greens (heavy on the Arugula, which I LOVE!)
½ cup cubed cucumber
½ cup organic cherry tomatoes
2 T. olive oil
1 T. balsamic vinegar
1/4 cup chopped mixed fresh herbs (Rosemary, oregano, lemon thyme)
Hot mint tea
Snack:
1 small apple
1 ounce coppa salumi
1 liter cold water
Dinner:
*****
Thank you, Sara, for sharing your food journal.

How do you do real food? If you are interested in sharing your Real Food Journal please contact me. I'd be glad to hear from you.