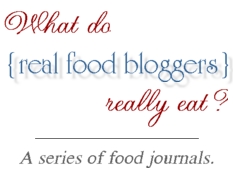 Today I bring you another real food journal from a real food blogger. Kat blogs at scdkatfood and shares her adventures in eating the specific carbohydrate diet.
In her own words…
I don't eat grains, potatoes, starches or sugars. I use honey a bit as my only sweetener but try not to overdo that. I feel best when I try to get as many healthy fats as I can (butter, olive oil, coconut oil, animal fats) and have recently started eating more organ meats.
She is also focused on sourcing local, organic foods…
I make an effort to source my food from local organic farmers. Most recently I was blessed with finding a wonderful small family hobby farm with 12 chickens to supply me with all the eggs I need. Most of the meals you see below can be found in my recipes section.
So let's get right to it.
Weekday
Breakfast: 2 farm fresh eggs poached in chicken broth, sauerkraut, yogurt with berries and honey
Snack: Coconut macaroons
Lunch: Pork ribs with tomato and onions, steamed green beans drizzled with olive oil
Snack: Liver pate with cranberries on slices of cheese
Dinner: Scallops with roe, baked squash with extra butter and sea salt, steamed cauliflower with olive oil
Weekend
Kat has been following the SCD diet since January 2008 for undiagnosed digestive problems which she suspects are caused by Celiac disease. As part of the diet she does not eat grains, sugar, or potatoes and prepares all of her food from scratch. She believes that food plays a huge role in acheiving health and wants to share her experiences in restoring her own health through change in diet. The recipes shared follow the SCD and GAPS diet protocols, but can be enjoyed by anyone who wants to eat Real Food.
*****
Thank you, Kat, for sharing your food journal. What a plethora of nutrient dense foods!

How do you do real food? If you are interested in sharing your Real Food Journal please contact me. I'd be glad to hear from you.