Sundays are always such a busy day. After a restful Sabbath we are recharged, ready to clean up after a day of rest, and ready to work on projects together as a family.
That leaves little time for cooking.
This soup evolved out of a need for a simple Sunday dinner. It is a one pot meal, full of protein and heartiness. It is flexible, depending on what you have lying around. It can be vegetarian, or you can switch up the meats to suit your preference.
Sprouting the lentils adds another dimension of nutrition to this dish. Not only does it lower their carbohydrate count and increase their nutrients, but it makes them more digestible.
Which makes for a more pleasant Monday :).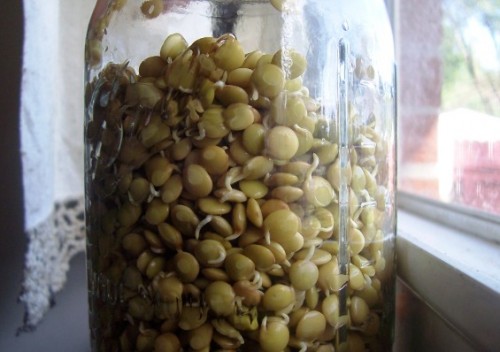 Slow Cooker Sprouted Lentil Soup
Recipe Notes: Play with this recipe, depending on what you have on hand. I regularly use dehydrated carrots, onions, and celery for an even easier meal preparation. Note that the cooking time may vary depending on your slow cooker.
Ingredients
2 cups green lentils, sprouted or soaked overnight
2 large carrots, diced
1 large onion, diced
3 celery stalks, diced
1 cup cooked, diced ham or a few strips of bacon
4-6 cups chicken stock or water
2 bay leaves
1 15 oz can crushed tomatoes
sea salt and plenty of black pepper to taste
Directions
For sprouting instructions see this post. Note that you will need to start the sprouting process a few days ahead of time. I like to start sprouts about once a week and then use them when I need them. They keep for a couple of weeks in the refrigerator.
Combine all ingredients EXCEPT crushed tomatoes in slow cooker. (The acidity of the tomatoes tend to make the lentils toughen). Cook on high four to six hours or until lentils are tender.
Add the crushed tomatoes, salt and plenty of black pepper to taste. Cook an additional 30 minutes or up to two hours.
Remove the bay leaves and serve alongside a salad or bread if you like.