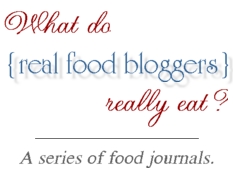 Today's real food journal comes from Lindsay of the popular blog Passionate Homemaking. Here is a little bit about today's real food lover:
Lindsay finds great pleasure in pursuing all things natural and simple with purposeful intentionality. She is a wife, mother of two little ones, and homemaker. She delights in making her home a haven for the glory of God. She blogs at Passionate Homemaking, where she strives to bless others with tips on natural living on a budget, but also offering biblical encouragement for women in their role.
DAY 1
Breakfast: Soaked Oatmeal– topped with raw honey, raw milk & coconut milk, coconut oil, ground flax seeds, raisins, and apples
Lunch: Ham & Cheese Sandwiches – raw cheddar, sprouted bread, with apples & peanut butter
Snack: Hummus & whole wheat pita bread
Dinner: Garden Chowder
DAY 2
Breakfast: Green Smoothieswith spinach, milk kefir, bananas, strawberries, peaches, and blueberries (all picked last summer and frozen), flax seeds, coconut oil & stevia. 2 pastured eggs cooked in butter.
Lunch: Leftover Garden Chowder from previous night, toasted sprouted bread w/grass-fed butter, oranges
Snack: Protein Bar
Dinner: Wild Salmon, potato wedges, green salad (romaine, cucumber, carrots, sunflower seeds, mushrooms) topped with oil & vinegar
DAY 3
Breakfast: Soaked Pancakes with millet, brown rice, coconut oil, pastured egg, and milk kefir. Topped with real maple syrup & organic peanut butter. Served with grapefruit.
Lunch: Egg Salad Sandwiches – pastured eggs, mayonnaise, seasonings, sprouted bread, lettuce, oranges
Dinner: Pizza – Homemade soaked pizza dough with all the supreme toppings, spinach salad (spinach, apples, pears, raisins, pecans) topped with lemon poppyseed dressing.
*******
Thank you, Lindsay, for sharing your food journal.
How do you do real food? If you are interested in sharing your Real Food Journal please contact me. I'd be glad to hear from you.