If you've read Traditionally Fermented Foods, you can help out by leaving a review with your honest feedback.
It has been nearly six months now since Traditionally Fermented Foods was launched. In that time I have gotten a lot of generous emails, reviews, and comments as well as a few questions. One common question is "How is the book doing?".
I kind of assume when people ask this that they are asking about book sales so in that regard I have to say I don't really know – my publisher has all of those numbers. However, all of the feedback I have gotten has been kind and positive and with one exception, every email I have gotten regarding specific recipes in the book have been really positive. The one exception to this is the Summer Squash Cortido on page 38. I believe the salt quantity is a misprint and should read 1.5 teaspoons of salt.
The other thing we have been doing in regards to the book is interviews and publicity as set up by our publisher. My publisher Will, and Editor Elizabeth (and their whole marketing team), have been great to work with and because of that, we just handed in a manuscript for a second book – not a cookbook! – that is slated to be launched Summer 2018.
But back to the interviews and features…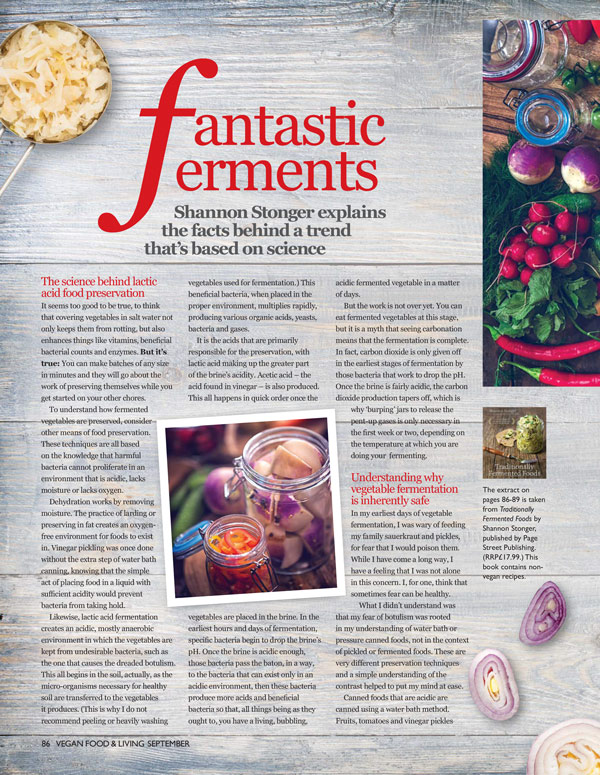 Vegan Food & Living Magazine from the U.K. had a piece called Fantastic Ferments in their September issue. In it, I share some thoughts on the health and safety of fermented foods and a few recipes from the book are also featured.
In their Best Healthy Cookbooks of 2017 Feature, Rodale's Organic Life named Traditionally Fermented Foods as The Best Cookbook For People Who Love Pickles.
Start Fermenting At Home, found in the Atlantic Journal-Constitution features snippets of an interview along with recipes for the Quintessential Sourdough Farmloaf and Soured Corn from the cookbook.
I spoke with Lisa of The Energy Times and she wrote up a piece called Bring On The Brine.
Edible Communities shared a piece on TFF, including recipes for Whey Sodas, Feta Cheese, and Fermented Fresh Herbs.
There were many other blog posts and media pieces left unmentioned but I would like to mention that I am very grateful for everyone's support and generous feedback through this process. If you've read Traditionally Fermented Foods, you can leave a review with your honest feedback for other purchasers.
In terms of ferments, right now I have milk kefir, kombucha, lots of cultured cheeses and butter and a few veggie ferments on my counters.
What are you fermenting?