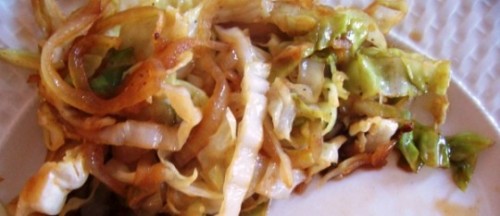 Now that spring is near we are seeing the light at the end of the winter vegetable tunnel. We have eaten cabbage probably twice a week since November, and this dish is usually on the menu weekly.
This cabbage dish is great alongside salmon cakes, which we eat frequently as well. What I love about the combination is that I simply fry the salmon cakes and then stir fry the cabbage – a one pan meal.
It is also very frugal, considering that cabbage is among one of the cheapest vegetables out there. Not to mention absolutely delicious.
Three years ago if you had asked me if I liked cabbage you would have heard a firm "No!" This is the dish that changed my mind and made me realize that the stinky overboiled cabbage of my childhood was not this vegetable's finest hour.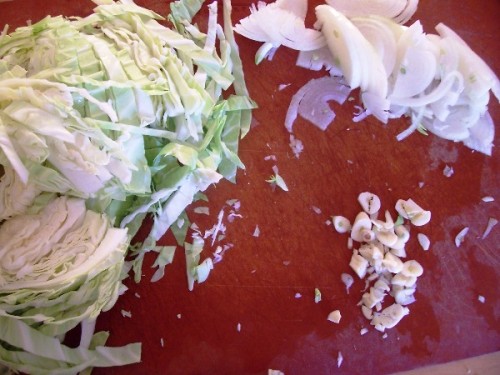 Simple Stir-Fried Cabbage
Ingredients
1 tablespoon coconut oil
1 small onion, sliced
3 garlic cloves, minced
1 small – medium head of napa or green cabbage, trimmed and sliced
2 tablespoons soy sauce
1 tablespoon rice vinegar
sesame oil, for drizzling
salt to taste
Directions
Heat oil in a large skillet over medium heat. Add sliced onions and saute until translucent. Add garlic and saute for an additional minute. Stir in cabbage and saute until it is just starting to wilt. Add soy sauce and vinegar and cook until cabbage has just wilted. Remove from heat, add sesame oil and taste for seasoning. Add salt if needed and serve while still hot.