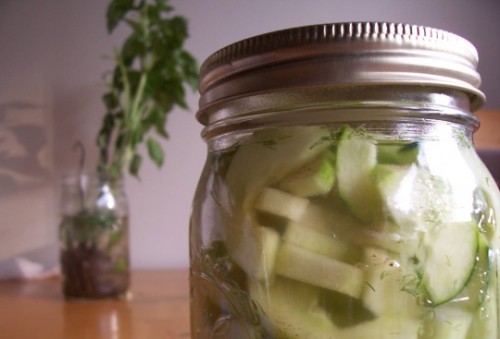 our first batch of lacto-fermented pickles for the year
In my journey to nourishing food eating more fermented foods was one of the last Nourishing Traditions principles we incorporated. It seems as though I'm not alone because many I've spoken with say the same thing. Why is that?
The truth is making your own fermented foods is intimidating, takes a bit of effort and is pretty foreign to most of us. And if you'd rather buy most fermented foods you'd better be prepared to spend a pretty penny for that "convenience food."
It's a shame, really, because these foods contain friendly bacteria for your gut and many more nutrients than their un-fermented counterparts.
In the past two years we have slowly worked up the courage to experiment with lacto-fermented vegetables, cultured dairy products and fermented beverages such as kombucha. I am by no means an expert, but my hope is that by sharing with you our journey and the ease with which we are now able to consume these health building foods that you may be inspired to take the leap as well.
What really helped me along in experimenting with different forms of fermented dairy as well as kombucha brewing were the starters and super helpful instructions that I acquired here. I had previously been given kefir grains with no explanation of how to use them or troubleshoot. It wasn't long before they went in the trash. With the wonderful step by step instructions and troubleshooting guide it made things very simple and we are now enjoying kefir smoothies several times per week.
So, starting next week I will begin a three part series discussing cultured dairy, lacto-fermented vegetables and the fermented beverage kombucha. These parts will in no way be a thorough treatise of each topic. Instead we will look at  the health benefits of each, how we make our own and how we've incorporated them into our diet.
I hope you'll join me next week to share what you know about fermented foods. See you then!
This post is a contribution to Fight Back Friday where you can find tips and recipes for real food.