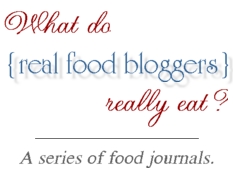 Today I bring you a food journal from Chandelle of Real Food: 365. Her blog is stunning, not to mention inspiring. And I really appreciate how she came to real foods for health and living. In her own words:
I live in Northern California with my family. I'll be graduating this summer with a nutrition degree and I'm coming out of four years as a vegan. Veganism was initially healing for me, but basing my diet on whole grains eventually messed up my blood sugar and weight. Unlike a lot of real food advocates, I wasn't impressed by Nourishing Traditions, but I've come to WAPF principles in a roundabout way through other sources and by my own exploration. I'm passionate about nourishing foods and native herbs. I plan to work from a community health perspective, emphasizing a traditional, DIY approach to these issues that supports personal exploration. I share recipes at real food: 365 and I also write at peaceful sedition.
Here is what Chandelle has to say about her food restrictions:
I can't tolerate cow's milk (even the raw stuff) but I do use raw goat's milk from a friend's goats. I avoid most commercial animal products, preferring to buy directly from the producer when possible. I limit my sugar consumption and have whole grains just a few times a week. The only meat I eat is fish (but not because I think meat is unhealthy – it's just not my thing).
Food Journal
Breakfast:
2 eggs (from a friend's chickens), cooked in coconut oil
steamed asparagus with butter
1 cup triple-certified, locally-roasted coffee (my weakness!) with raw milk and maple syrup
Snack:
1 local apple
spoonful of nut butter
Lunch:
Snack:
1 cup plain yogurt
1 T. local honey
handful of frozen wild blackberries
Dinner:
chipotle sweet potatoes with butter
salad
(my family ate soaked red rice with this meal)
Dessert:
1 grapefruit
1 cup of homegrown peppermint/catnip tea
*****
Thank you, Chandelle, for sharing your food journal.

How do you do real food? If you are interested in sharing your Real Food Journal please contact me. I'd be glad to hear from you.