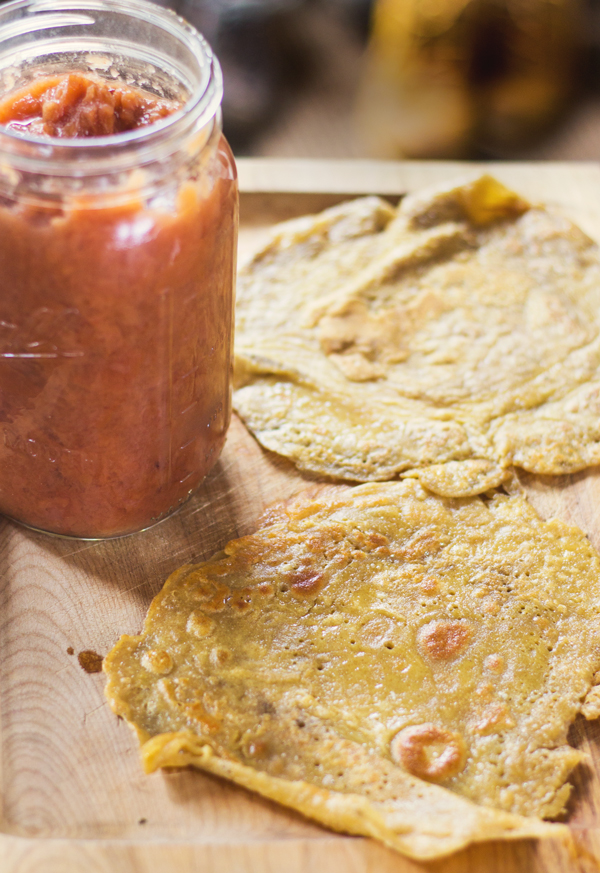 In feeding this family of mine, I can't tell you how many times the sourdough starter has come to my rescue. We used to use fruit and nuts primarily as snacks but that can get really pricey with growing boys and whatnot. I've tried to stretch them out to stop snacking all together, putting loads of traditional fats on their plates and serving up who knows how many baked potatoes and sides of beans.
But here we are, these boys coming in sweating from a couple hours of work, still looking for snacks not long after a meal. Best to have a plan and a sourdough starter and get cracking, I say. So a couple of weeks ago when no loaves had been baked and no leftovers were still on the table, I decided to make sourdough crepes from the "discarded" starter.
There is a lot more regarding "discarded" sourdough starter, why discarding helps build up your starter for better bread, and how to use the "discarded" starter in recipes in Traditionally Fermented Foods. For now, I'll just say that discarded starter is the starter you throw into the chicken scrap pale or compost directly before you feed your starter. Using that starter without adding additional flour gives you a fully fermented bread since the starter itself has already gone through a full cycle of fermentation.
So it's nice to use it in recipes like this, alongside some jars of home canned applesauce or preserves, for a quick snack. Or, double or quadruple the recipe for a breakfast or dessert treat. Everyone, including Ruthie, seems to enjoy these sourdough snacks.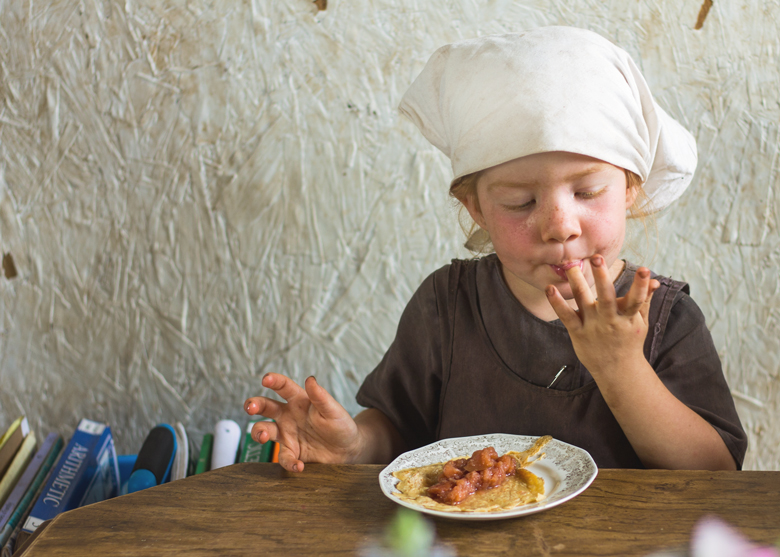 Sourdough Crepes Using "Discarded" Starter
Note: You can also find a recipe for wheat-free Sourdough Rye Crepes in 100% Rye.
Ingredients
1 cup "discarded" sourdough starter
1 egg
pinch of sea salt
4 Tablespoons butter, coconut oil, or lard for frying
Applesauce, fresh fruit, soft cheese, or whipped cream for serving
Directions
Heat a 10″ cast-iron skillet over medium heat. Add 1 Tablespoon of the fat to the pan and allow to melt while the pan preheats. Meanwhile, whisk the sourdough starter, egg, and salt together in a small bowl.
Once the pan is hot and the batter mixed, ladle in approximately 1/4 cup of the batter. Using a hot pad on the handle, quickly rotate the pan to spread the batter into a large circle as thin as you can. Allow the crepe to cook for 2-3 minutes or until it sets around the edges and a bubble or two appears on the surface.
Carefully flip and cook 1-2 minutes more or until set. Transfer to a platter or cutting board and repeat with remaining batter. Once all crepes are cooked, serve with fillings of choice.
For more easy-to-make naturally leavened breads (both wheat and gluten-free) see Traditionally Fermented Foods, available for pre-order now and everywhere May 9th.