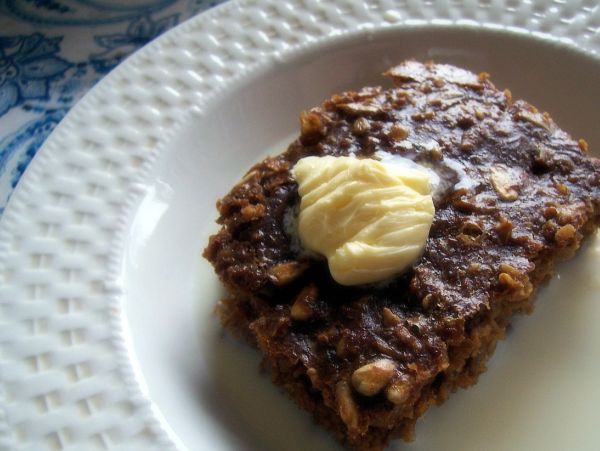 I know it's 90 degrees out there, but here I go again with another recipe to use up those fifty pounds of oats that you bought. Wait, that was me.
Whether you've got fifty pounds of rolled oats or five, you're gonna want to try this recipe. It may be better suited for fall or winter, but since I finally recovered some photos of it on my computer I thought I'd share. Even in summer you can bake this on a cool morning and have breakfast for days.
In this recipe, the oatmeal is first soaked to reduce the phytic acid and make it more digestible. It is then combined with some of it's closest friends – coconut oil, molasses, and cinnamon – to create a delicious, barely sweetened breakfast.
Molasses, while not super sweet, has great flavor as well as minerals. It is also really inexpensive at just over 80 cents per recipe for organic.
Served with whole milk yogurt or crumbled into a bowl of raw milk, it makes a hearty breakfast that can be eaten for days as it produces up to 12 servings.
Plus, it kind of tastes like cake.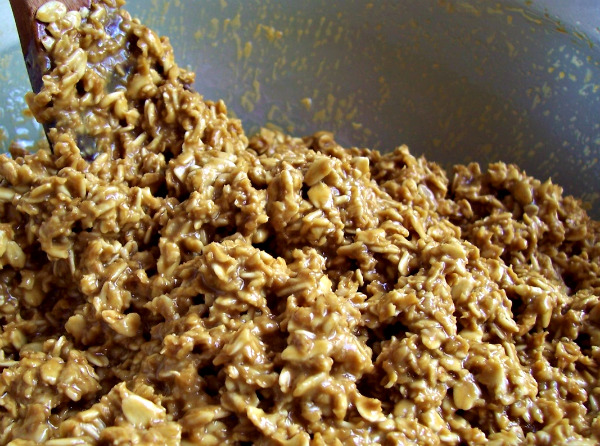 Molasses-Sweetened Soaked Baked Oatmeal
Ingredients
6 cups old fashioned rolled oats
2 cups warm water
1/3 cup whey, yogurt, or buttermilk
1 cup melted coconut oil or butter
8 large eggs, beaten
1/2 cup molasses (not blackstrap)
2 teaspoons vanilla extract
1 tablespoon cinnamon
2 teaspoons baking soda
1 teaspoon sea salt
1/2 cup chopped walnuts
1/2 cup raisins (optional)
Directions
Soak the oats: The morning before you want to make this for breakfast (~24 hours) combine the oats, warm water, whey/yogurt/buttermilk, and melted coconut oil or butter in a large bowl. Pat it down a little so that it is mostly one large "dough". Let sit in a warm place until the next morning.
In the morning preheat the oven to 350 degrees. Place the bowl of soaking oats on top of the oven to warm up a bit while you butter a 9×13" baking pan.
Combine eggs, molasses, vanilla, cinnamon, baking soda, and sea salt together in a medium-sized bowl. Stir this mixture into the oat mixture. You will have to use a wooden spoon to break up the oatmeal and evenly disburse the egg mixture.
When the egg and oat mixtures have been combined, stir in the walnuts and raisins. Pour into the buttered pan and bake at 350 degrees for 30-35 minutes, or until a toothpick comes out clean.
Serve warm with milk and additional nuts and raisins if desired. Serve cold with yogurt and additional honey if desired.