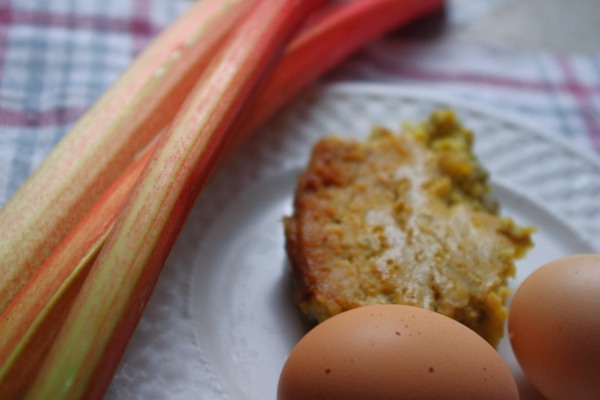 Clafoutis sounds like such a fancy pants dessert, but it's really like a pudding and a pancake all in one. By pouring a batter over fresh fruit you end up with a super easy, beautiful dessert.
So I thought I'd give that a shot when I picked up some rhubarb at the farmers market last week. I have fond memories of my Grandmother's rhubarb pie with that delicate balance of sweet and sour that only rhubarb can bring. So when I tasted this the other night it was like being transported back to their big and always bustling farm home.
I was also excited to present my husband with something (a dessert, even!) that he could actually eat. When company comes over it is hard to make a meal that everyone can eat while we're doing the GAPS diet. This rhubarb clafoutis, made in a cast-iron skillet, is not the prettiest of clafoutis unless your rhubarb is very red, but when it's tasty no one really notices.
The other bunch of rhubarb ended up lacto-fermented… which I hope to share next week.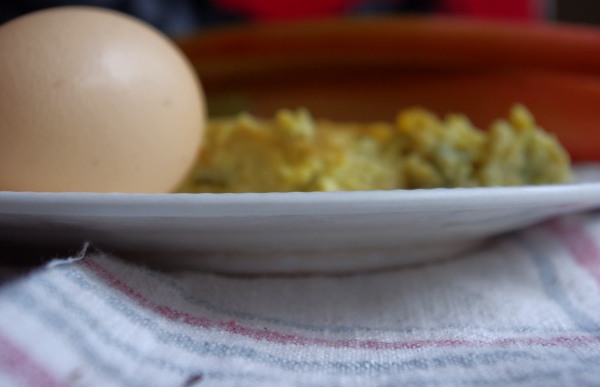 Rhubarb Clafoutis
Inspired by Elana's recipe
Ingredients
1 1/4 lb. fresh rhubarb (after trimming)
1/2 teaspoon minced fresh ginger
5 tablespoons of ghee, divided (see sources)
4 large eggs
1/3 cup honey
1/2 cup coconut milk (see sources)
1/3 cup almond flour
pinch of sea salt
Directions
Preheat oven to 325 degrees.
Place a 10" cast-iron skillet over medium-low heat and allow to warm up. Meanwhile, prepare rhubarb. If the stalks are very wide, and therefore very stringy, peel off the outer layers with your fingers.
Once the pan is hot add 3 tablespoons of ghee and the rhubarb. Saute with a pinch of salt and the 1/2 teaspoon of fresh ginger until softened and the liquid has mostly cooked away.
While rhubarb is cooking prepare batter. In a small mixing bowl beat the eggs. Add the coconut milk and honey and mix well. Mix in the almond flour and sea salt.
Once the rhubarb has cooked allow it to cool for just a couple of minutes before handling. Stir a small scoop of the rhubarb mixture into the batter and beat well. (We are tempering the batter here.) Stir in another small scoop of rhubarb mixture and then add the rest of the mixture, beating well to avoid scrambling the eggs.
Rinse out the skillet and return to heat. Add the other 2 tablespoons of ghee and allow to heat thoroughly. Once hot, pour in the batter and immediately place in preheated oven.
Bake at 325 degrees for 45-50 minutes or until set in the middle. Allow to cool a bit before serving.
What are you doing with your rhubarb?