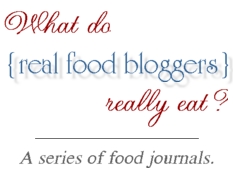 Today's long-overdue real food journal comes from Kimberly Hartke of Hartke is Online. Her blog is full of information, interviews, and encouragement for getting back to traditional foods.
Here's her story:
Keith and Kimberly Hartke lost 50 lbs between them by following Dr. Arthur Agatston's South Beach Diet and switching to organic foods, over 5 years ago. Today, they follow a low-glycemic, nutrient dense, local foods diet (they buy nearly 95% of their food directly from sustainable small farms) and combine it with cardio and muscle building fitness workouts to maintain their new, slim physiques.
Now let's take a peek into Kimberly's real food kitchen.
Day 1
Pre Workout Snack: 3 teaspoons Yogurt Soaked Granola, 1/4 cup farm fresh milk-unpasteurized, 1 cup decaf organic coffee with fresh milk.
Breakfast: 2 farm fresh eggs, sunny side up, cooked in bacon grease, 2 slices home cured bacon, 1 slice naturally fermented sourdough whole wheat bread with 1 pat of butter, 1 (6 oz) glass farm fresh whole milk.
Lunch: mixed greens, 3 slices of leftover steak, 1/2 orange, sliced then cut into 1/3's, homemade olive oil and apple cider vinegar dressing, freshly cracked pepper
Dinner
Pork chops with Italian wet rub, sweet potato, topped with 1 pat of butter & organic cinnamon, krispy kale.
Day 2

Breakfast: 2 Scrambled eggs with smoked raw cheddar cheese and chopped scallions, cooked in butter, Homemade pork sausage, 2 Soaked flour mini muffins with butter.

Lunch
Homemade whole milk yogurt with pineapple, coconut, granola topping.

Dinner: Rack of Lamb, Parsnips and Leeks, Garden Greens Salad with Fresh Buttermilk Dressing, Homemade vanilla ice cream.

Other Meal Ideas
Family and Friends Cookout
Here is one easy dinner that typifies the way Kimberly Hartke cooks – simple, fresh, and local: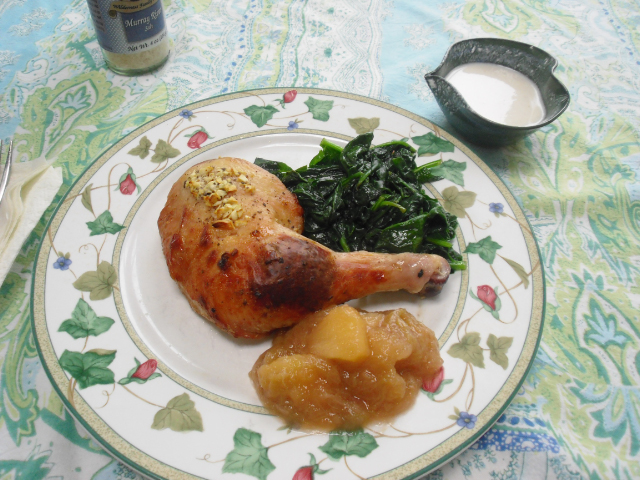 Buttermilk Baked Chicken with Rhubarb Apple Sauce and Spinach Saute
Kimberly is the publicist for the nutrition education non-profit, Weston A. Price Foundation. The diet recommended by the Foundation is helping her overcome chondromalacia patella, a painful knee condition. Thanks to their weight loss and new diet and exercise lifestyle, her husband is no longer pre-diabetic, and no longer takes blood pressure medication. They are owners of National Realty and Awesome Beach Vacations, which are both sponsors of RealFoodMedia.com. You an visit Kimberly at her blog Hartke is Online.