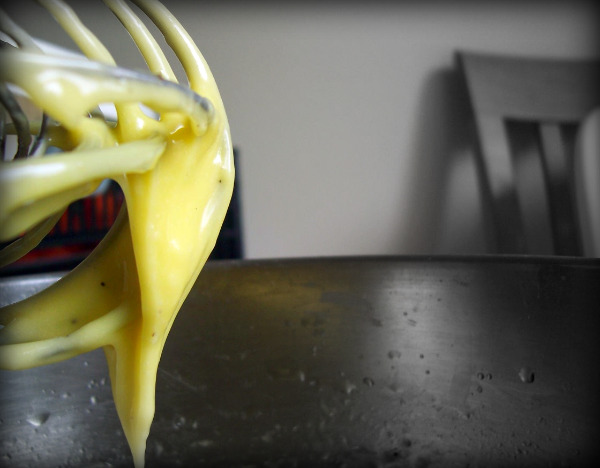 Who doesn't love mayonnaise? I know I do, especially the Hellmann's brand. Unfortunately the main ingredient in this mayonnaise is soy oil, or you can get the canola oil version which includes lots of modified corn starch and I'm not a fan of canola oil. There is also a safflower oil mayonnaise of a different brand, but that's just one more unstable vegetable oil I don't want to eat.
So olive oil it is. I always have it on hand for salad dressings and have finally come to appreciate this more flavorful oil. Honestly, I doubt I will ever make a mayonnaise that tastes exactly like Hellmann's, but I am willing to have a more flavorful mayonnaise if it means using an oil I know is good for me. I'm going to experiment with different fat combinations, but for now this is our mayonnaise.
On a side note, the best olive oils I have found are from Chaffin Family Orchards, Euphoria (to the right), and Mountain Rose Herbs, which is having a 20% off sale this month on the 16 oz size.
After playing around with different recipes for a while I think I have found one I like. It has lots of flavor – tart from lemon juice and fruity from the olive oil. It makes a delicious addition to a salad of pastured bacon and garden lettuce and tomatoes. It is also the basis for a homemade, nourishing caesar salad dressing, which I will share next week.
Homemade Olive Oil Mayonnaise
Recipe Notes: This makes a pretty small batch, which you could double or triple. I like to make small batches so that we use it up quickly. I find that this takes little time to prepare so making a fresh batch is never a big issue. Also, it will thicken up after refrigeration.

Ingredients
1 egg yolk
1 tablespoon lemon juice
1/2 cup olive oil
pinch of celtic sea salt and pepper
pinch of mustard powder
Directions
Warm the bowl: Fill a small metal or glass bowl with warm water. Let sit for a few minutes while you prepare the rest of our ingredients. After a few minutes dump out warm water and dry bowl thoroughly.
Combine egg yolk and lemon juice in bowl and whisk thoroughly. Place olive oil in a measuring cup with a spout. You are now going to drizzle the olive oil in one drop at a time while whisking. It sounds tedious, but it doesn't take long. Just go very slowly so that the egg yolk can emulsify the lemon juice and oil. Once you are about halfway through your olive oil you can start drizzling a little faster. Just keep whisking and stop the oil every so often and whisk to be sure it emulsifies.
Once all of the oil is incorporated you should have a thick, creamy texture.Whisk in the salt and mustard powder. Taste and add more salt and pepper if desired. It thickens more once refrigerated. Refrigerate immediately if not using, keeps for a few days.
Do you have a favorite mayonnaise recipe you can share?