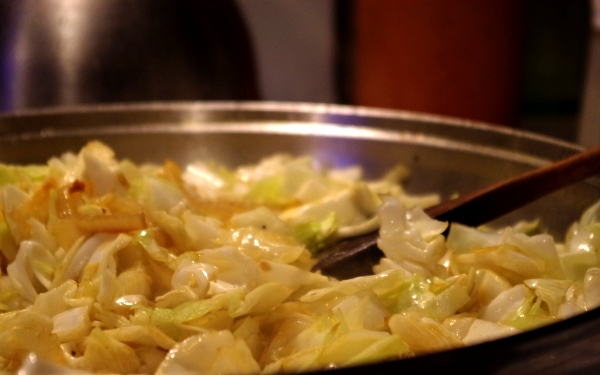 Some recipes are not recipes, but rather ingredients that have such an affinity for one another that it seems too good to be true. Chicken and thyme, beef and red wine, onions and… well… everything.
And now cabbage and butter.
I most frequently use cabbage in sauerkraut, stews, and delicious braised cabbage. But on the rare occasion that we just have a big piece of meat that needs a side dish, cabbage is the easy choice as it goes right in the pan after the meat is done and soaks up all of those delicious flavors.
There are really only three necessary ingredients in this recipe besides salt: cabbage, butter, and onions. The more onions, the better. Coincidentally, the onion that I used for this dish was the last storage onion from what I stashed away last October. I recommend two or more onions, if you can spare them.
So I will give you my method, but do be flexible and remember the more onions and butter the better.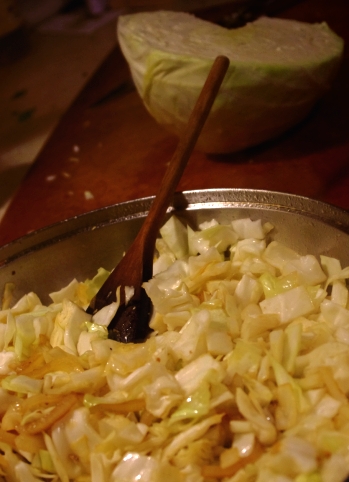 Buttered Cabbage
Ingredients
Lard, tallow, or coconut oil (or the drippings from a just-seared piece of meat)
1 or more onions, sliced thinly
1 medium cabbage, or as much of it as will fit in the pan. (I used 3/4 of that bad boy)
2-4 tablespoons butter
sea salt and pepper to taste
Directions
In a large skillet over medium heat melt lard, tallow, or coconut oil or simply leave in the drippings of your just-seared meat. Add the sliced onion and saute for a couple of minutes. Add your chopped or sliced cabbage to the pan with a generous pinch of sea salt. Saute for about five minutes, stirring occasionally.
Add about 1/4 cup of water to the skillet, cover with a lid and allow to steam for 5-10 minutes, or until cabbage has softened. Remove lid, simmer until most of the moisture has evaporated, and remove from heat.
Add butter and sea salt and pepper to taste. Serve as a side dish, as we did, with local pork steaks and homemade sauerkraut.
Have you ever tried the butter and cabbage pair?