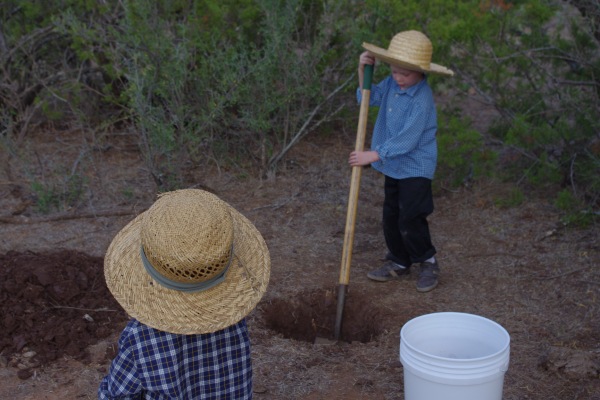 Last week, on a hot October day by our northern standards, we arrived on our land in the south. Yesterday marked our first week here and it has seen some ups, some downs, and a lot of grace.
We are residing on two acres of bare land filled with mesquite trees, cacti, and the occasional free-ranging long horn cow. We are building our off-grid homestead from scratch which means we are living in a small camper while we prepare to build our home. It also means the basics of life that we normally take for granted become hugely significant and your perspective on what you really need is constantly changing.
This is what life looks like for a family of four just starting out.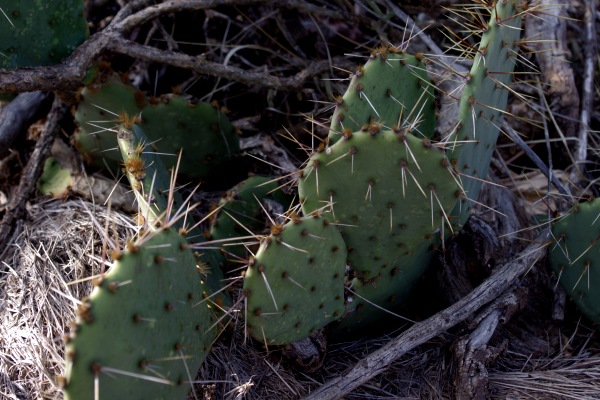 Day One:
We arrive at approximately 6 p.m. with only an hour or two of daylight left. We meet with the neighbors who show us around. By 7:30 it is starting to get dark. We prepare to stay on a neighboring off-grid homestead for the night. By 8:00 it is very dark and our lack of preparations for an off-grid evening are showing. Oh, and we forgot to eat dinner. So we fold it up for the night and head for the local motel.
The idea of using an outhouse every day hits me like a ton of bricks and I try to get past my coddled squeamishness.
Day Two:
We get to the land early to meet with the neighbors to discuss the community, the land, etc. At lunch Papa heads out with some men to check out the area and get supplies while the boys and I are graciously fed lunch. We then promptly head to our camper for much-needed naps. By late afternoon I realize that one of our boys has had a nap-time accident and all of the clean clothes are in the van, which I do not have a key for, is locked. Our kind neighbor stops by just in time to offer to go get keys from the Papa. Once that crisis is solved and a bucket has been located as a temporary outhouse we call it a night early in the hopes that we can get to some bare necessities in the morning. Once again we stay at a motel for the night.
I have moved past squeamish on the outhouse front and into the I've-got-to-go-right-now-so-just-give-me-a-bucket-cuz-the-baby-is-kicking-my-bladder phase.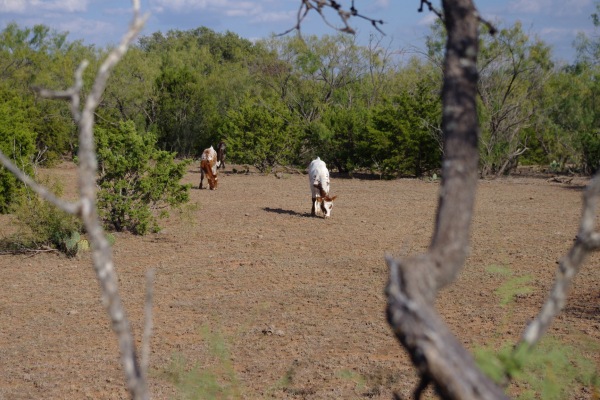 Day Three:
We try to get up early enough to make the rounds for supplies. We arrive to the land mid-morning ready to get started. Our first priority is an outhouse so the digging commences. I mostly observe while trying to get things set up in our new home. In the mean time we realize the urgency that a lack of a bathroom causes and try to work faster, thankful that our neighbors graciously allow us to use theirs. By the end of the day we have a temporary outhouse, we have lights and beds for the night, and we continue to drink store-bought water. Filtration of the water from our 1500 gallon catch-water system will have to wait until tomorrow.
That afternoon we meet the (very large) longhorn cows in our backyard. We spend our first night in the camper cozy as bed bugs, tired as can be, and happy as clams.
The outhouse, A-framed with a draping tarp, makes me want to weep it is so beautiful.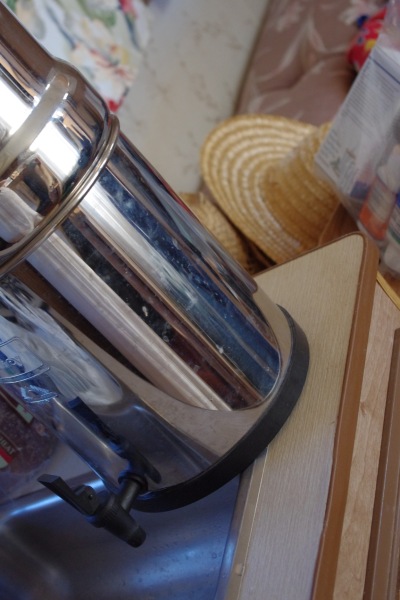 Day Four:
We head out early for supplies at the nearest large town, 30 miles away. Six hours later we arrive home with a van full of groceries, deep cycle batteries, and lumber. The afternoon is spent hooking up our first solar panel, setting up the solar freezer/refrigerator, hooking up the propane stove and putting together our Berkey water filter.
The rest of the week brings its own set of challenges, which I will share next time.