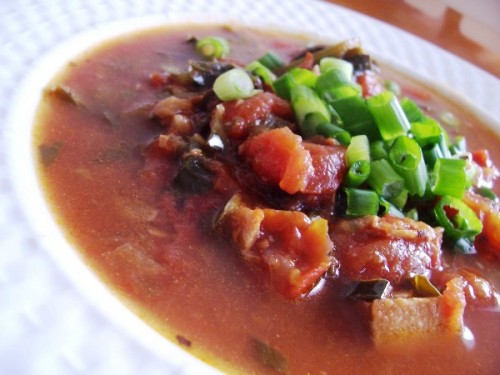 Having homemade chicken stock on hand provides the foundation for a plethora of easy, nutritious and flexible meals. For me, soup is that go to meal. The only work generally involved is chopping vegetables and it tastes even better when put together ahead of time and allowed to simmer all day.
This soup is spicy and rich, with flecks of golden deliciousness from the chicken stock. The broth will keep you coming back for more while the vegetables and chicken fill you up without needing a grain "filler".
Once again this soup contains greens. I recommend using kale or better yet collard greens. The slightly smokiness of the collard greens accentuate the cumin and cayenne that permeate the broth.
And, of course, it is even better the next day for lunch.
Mexican Chicken Soup with Greens
Recipe notes: I used a combination of mushrooms and celery for the vegetables. I think that a root vegetable like turnips or carrots would work well. You could also try diced winter squash – that sweetness against the spice could be delicious. The amounts of red pepper and cayenne give the soup a good kick, so dial back if you prefer a more mild soup.
Ingredients
1 large onion, diced
3 cups of chopped, mixed vegetables
2 tablespoons olive oil
8 medium garlic cloves, minced
1 tablespoon cumin
1/4 teaspoon red pepper flakes
1/2 teaspoon cayenne
2 quarts chicken stock
2 – 28 oz. cans tomatoes, diced
3 cups cooked, cubed chicken
1 bunch of greens, washed, trimmed and chopped
salt and pepper to taste
chopped scallions and cilantro for garnish
Directions
In a large soup pot, saute the onion and vegetables until softened. Add garlic, cumin, red pepper flakes and cayenne and saute another two minutes. Pour in the chicken stock and bring to a boil, scraping up any browned bits from the bottom of the pot. Reduce the heat and add the tomatoes. Cover and allow to simmer at least twenty minutes, or all afternoon if you'd like.
Twenty minutes before serving add the chicken and greens. Once the greens have wilted down taste the broth for seasoning and add sea salt and pepper as needed.
Garnish with chopped scallions, cilantro, raw cheese or cultured cream.