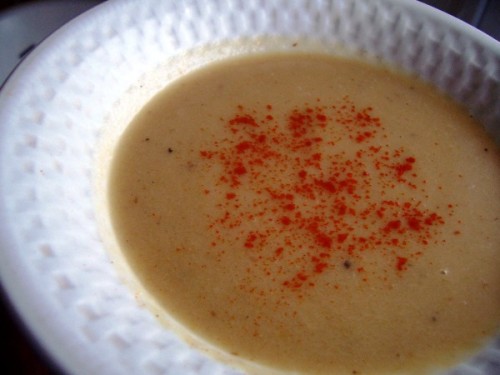 Going grain-free can result in one of two things:
you eat a lot of animal products and some produce, leaving your budget trembling.
you eat a produce-dominated diet alongside animal products, leaving your budget intact.
Number two looks a lot better for your budget, doesn't it?
One of the best ways to make that meat stretch, while encorporating lots of vegetables is to make vegetable soups with chicken stock. Even better is when you can blend the two to make a creamy soup that doesn't even contain cream.
This soup is all of the above and flexible to boot. You can use whatever vegetables you have on hand. You could change up the flavors by adding different fresh herbs. The possibilities are endless.
Roasted Root Vegetable Soup
Ingredients
4 1/2 lbs. root vegetables (I used carrots, parnips and turnips)
6 cloves of garlic, peeled
1 large onion, cut into eights
1/4 cut melted butter or olive oil
2 quarts of chicken stock
1/2 teaspoon lemon juice
2 dashes of cayenne
salt and pepper to taste
paprika and/or fresh herbs for serving
Directions
Preheat the oven to 425 degrees. Trim, peel and chop the vegetables into 1″ cubes. Place the vegetables, garlic and onion on a sheet pan and pour over the butter or oil. Toss the vegetables with the butter to coate evenly. Roast in the oven for 45-50 minutes, turning halfway through the cooking process.
Once the vegetables have browned well, take them out of the oven and transfer them to a soup pot. Add chicken stock, lemon juice and cayenne. Bring to a boil and allow to simmer for 15-20 minutes.
Blend soup using hand-held blender or in batches using your blender. Taste for seasoning and add salt and pepper as needed.
Serve with a sprinkling of paprika and/or fresh herbs of your choice.
**Looking for more nourishing and frugal recipes?**