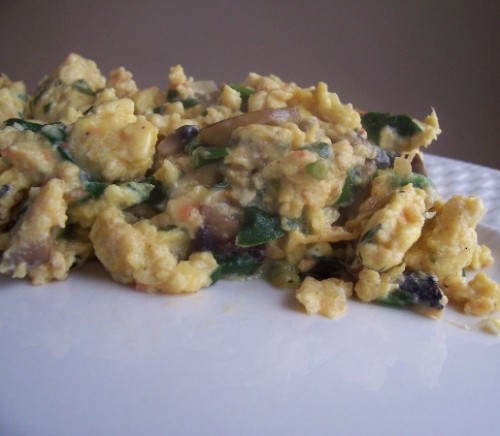 These days we are eating eggs for dinner about once a week. They are so simple, nutritious, inexpensive and versatile.
My husband is a huge fan of omelets filled with many different ingredients. Personally, I prefer scrambled eggs. So we meet in the middle – scrambled eggs with lots of different flavorings. I also find that eggs are extremely child-friendly. My toddler eagerly requests eggs in any form.
It really does pay to find eggs from pastured chickens. The yolks are a deep yellow, nearly orange. The whites are clear and firm and the flavors is, well, really eggy. I remember the first time I had a pastured egg. It was like that egg stood up and declared "This is what we're supposed to taste like!" Not to mention pastured eggs contain more vitamin A, vitamin E and omega-3 fatty acids than those from battery-raised hens.
Once you have some good eggs you can use this recipe as a guide. You could use any combination of vegetables – peppers would be especially nice. Just make sure that all of your ingredients are fresh and delicious. A dish this simple leaves nowhere for those ingredients to hide.
Southwestern Egg Scramble
Ingredients
2 Tablespoons butter
2 green onions, sliced thin
1 cup chopped mushrooms
1 1/2 cups finely chopped spinach
1 medium tomato, diced
9 large eggs, preferably from pastured chickens
1/2 cup grated sharp cheddar cheese
1 Tablespoon finely chopped fresh herbs – cilantro or parsley
pinch of cayenne
salt and pepper to taste
Directions
Melt the butter in a large skillet over medium heat. Add the green onions and chopped mushrooms and saute until they have softened and browned up.
Add the spinach, tomato and a pinch of salt and saute until the spinach has wilted.
Stir in the eggs. Continue to stir (scramble) the eggs until they are nearly set.
Remove the skillet from the heat and stir in the cheese, herbs and cayenne. Add salt and pepper to taste and serve while piping hot.