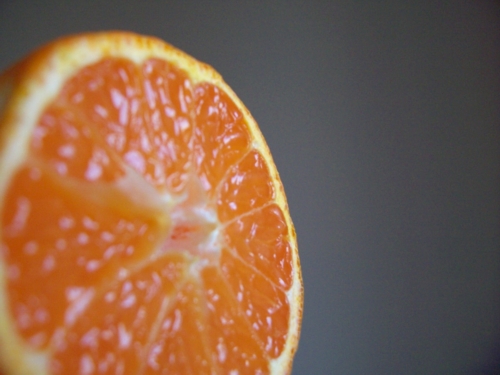 Now that we're into December citrus season is starting. Here in the mid-west we don't grow a lot of oranges, lemons, or grapefruits so we must ship them in from California, Florida, and Texas. Because of this they are a special treat in the cold, dark days of winter.
Until I started cooking from scratch I never thought to use these mandarin oranges for anything other than eating out of hand. And while they are more than delicious eaten that way they can also be zested and juiced to add depth of flavor and a delightful surprise to many recipes.
I also think a box of these oranges would make a fantastic surprise gift to show up on someone's doorstep.
Mandarin Orange Recipe Ideas
I used mandarin oranges to sweeten a cranberry sauce that is delicious as an accompaniment to poultry, or all on it's own.
Orange-Sweetened Cranberry Sauce
Recipe Notes: Additional sweetener beyond the orange juice is optional here because some prefer their cranberry sauce a tad sweeter. As always adjust the sweetness to your preference. The cloves add a lovely, warming contrast to the sharpness of the cranberries and plays well with the orange flavor.
Ingredients
3 cups fresh cranberries, preferably organic
1/4 cup water
zest and juice of 2 mandarin oranges
pinch of salt
pinch of cloves
scant 1/8 teaspoon of NuNaturals stevia or 1-2 teaspoons honey
Directions
Combine cranberries, water, zest and juice of oranges together in a small saucepan. Cook over medium heat until cranberries have burst and sauce starts to thicken, ~ 5 minutes.
Add cloves and salt and taste for sweetness.
Add stevia or honey to taste.
Serve warm as an accompaniment to poultry or chill and serve all on it's own.
This post is a contribution to Tammy's In-Season Recipe Swap.