Just last week I was thinking about how we have gotten into a breakfast rut and how, frankly, it didn't really bother me. The last few months we have rotated three breakfasts – oatmeal porridge, smoothies, and eggs. (I always make eggs or meat for myself.)
Then one morning when I asked "Eggs for breakfast?" the papa replied "Eh, we had eggs last night." Uh oh. I had been dreaming up this breakfast in my head for weeks since carrot cake is the papa's favorite dessert, hands down. Looks like it was time for me to break the rut.
When papa and the boys devoured it and said "Fantastic!" and "Why don't we eat this more often?" I realized that the only one content with the breakfast rut was me so I asked if they'd like some more variety.
Cries of "Twice a week!" and "Mama, THIS is a recipe!" followed.
I better step it up or I'm gonna' have a mutiny on my hands.
Raw Carrot Cake Breakfast Bowl
Recipe Notes: A box grater is the easiest way I know to grate a carrot. I served this with a big helping or raw milk yogurt (yes, finally raw yogurt success!), but you could use milk or kefir or even coconut milk. You might even be able to put this together the night before and add the nuts at the last minute for a really quick breakfast or as a great snack. Grated apple would also be nice in this.
Makes 1 adult serving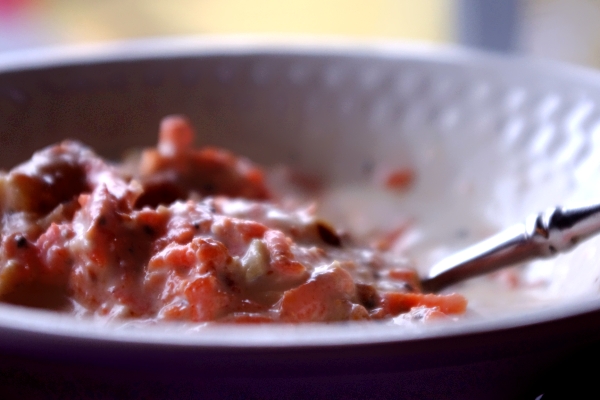 Ingredients
1/3 cup grated carrots
2 tablespoons chopped nuts
2 dates, finely minced
2 tablespoons shredded coconut
1 heaping tablespoon of nut butter (or more chopped nuts and/or chia seeds)
pinch of cinnamon
pinch of sea salt
1/4 – 1/2 cup raw yogurt (or milk) to serve
Directions
Place the carrot in the bowl and top with all other ingredients. Finish with the raw yogurt, mix for the little ones, serve, and stand back.
What are you making to prevent a breakfast riot these days?