I have been making a lot of beef broth the last few months between a bull we brought in and a few extra boxes of bones we've since gathered from that same butcher. Beef broth is no joke with its thick layer of fat on top of each pot and its necessitating a hacksaw to get the bones into the pots. But it is deep nourishment and cheap as well so I am grateful.
So every week I have been about the business of making plenty of broth. Here's how.
Making Beef Broth
We bring home large boxes full of bones from the butcher. After cutting the larger ones with a hacksaw, we generally fill three large stock pots. I then proceed as follows:
Cover the bones with filtered water and a splash of apple cider vinegar and simmer for 12-18 hours.
Turn off heat and let pots rest for an additional 8-12 hours.
Skim off the fat and set aside. Remove bones and pour into quart jars.
Eat straight away or preserve either by canning or stashing in our solar freezer (or our neighbor's).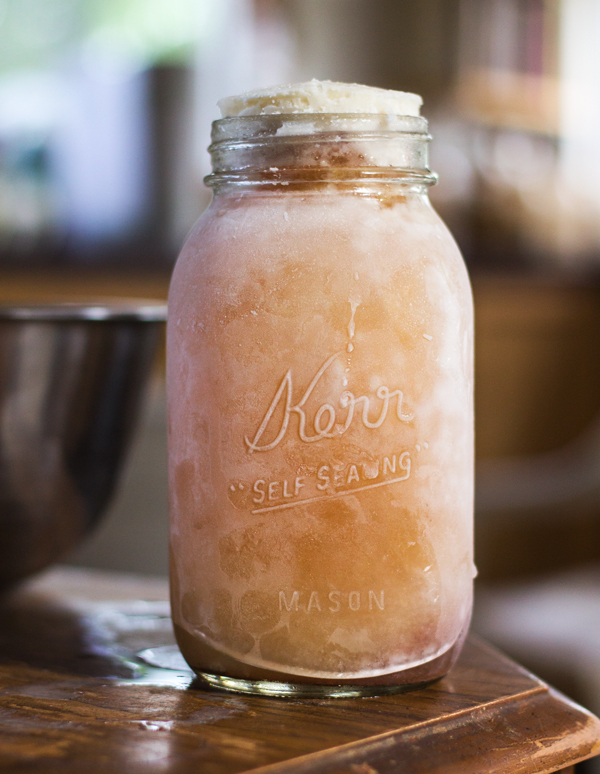 Preserving Broth: Freezing
Do you see the crack at the bottom of the jar above? Also, notice the fat pushing out from the jar rim. This batch of broth I had jarred thinking they were making their way into a refrigerator. I later found out we would be storing them in our small solar freezer but didn't change the volume in the jars to compensate. Big mistake!
Liquids expand when they are frozen and so the most important thing you can do when freezing broth is to fill your jars only about 80% full. This should give them room to expand and you will be far less likely to lose jars and broth in the process.
We eat through our broth in a week as we can't store it too long with our solar freezer. We have also been using the frozen broth as "ice" in a cooler we keep a few grocery store items in. So every morning we move two jars from the cooler into the kitchen for cooking and then two jars go from the solar freezer and into the cooler to thaw and act as ice.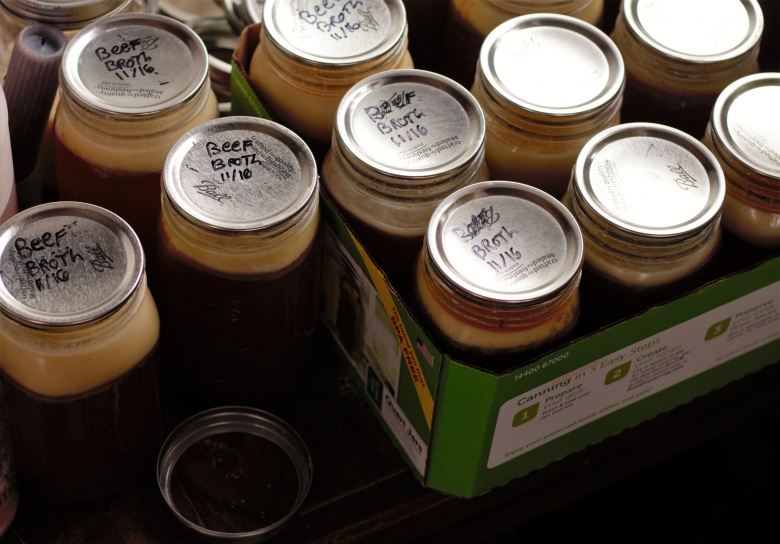 Preserving Broth: Canning
The main method I use for preserving broth for the long term is canning. This gives us long term storage without having to use our solar freezer which isn't always reliable. After all of the broth is made and strained into jars I follow these canning guidelines from the USDA:
Table 1. Recommended process time for Meat Stock in a dial-gauge pressure canner.
Canner Pressure (PSI) at Altitudes of
Style of Pack
Jar Size
Process Time
0 – 2,000 ft
2,001 – 4,000 ft
4,001 – 6,000 ft
6,001 – 8,000 ft
Hot
Pints
20 min
11 lb
12 lb
13 lb
14 lb
Quarts
25
11
12
13
14
Table 2. Recommended process time for Meat Stock in a weighted-gauge pressure canner.
Canner Pressure (PSI) at Altitudes of
Style of Pack
Jar Size
Process Time
0 – 1,000 ft
Above 1,000 ft
Hot
Pints
20 min
10 lb
15 lb
Quarts
25
10
15
With all of this broth going in and out of pots, we have been consuming at least two quarts per day or 3-4 gallons per week. If you aren't familiar with the benefits of bone broth and the minerals, collagen, gelatin, and easily assimilated amino acids it contains, this article has a lot of great information.
Do you make and eat bone broth?