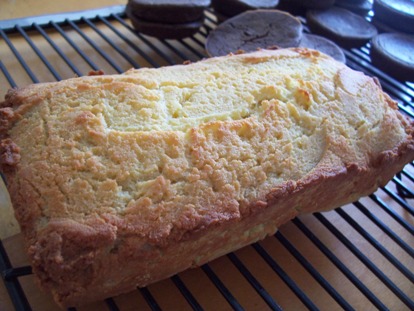 This is a great bread for those who are looking for something gluten free and lower in carbohydrates at the same time. Coconut oil, and coconut products in general, are fantastic for anyone who is looking to lose weight and improve their health. Coconut oil not only increases your metabolism, but it helps keep you feeling full so that you eat less and is an antifungal to boot. What I love about this bread:
It's super fast to make – very few ingredients and there is no soaking involved because there are no grains.
It contains no gluten or casein.
This is not, however, anything like regular old wheat bread. It makes a very short loaf (about 1 – 1 1/2 inches tall) and is very dense. I have yet to try it as sandwich bread because I find it is more of a sweet bread, even without any sweetener.
Coconut Flour Bread
Ingredients
6 eggs
1/2 cup melted coconut oil or butter
1-2 tablespoons honey (optional, I usually leave it out)
1/2 teaspoon sea salt
3/4 cup coconut flour
Directions
Mix all ingredients together and pour into a small buttered loaf pan. Bake at 350 degrees for 40 minutes.
Turn the loaf out and cool completely on a rack before serving. That's it! Enjoy.
If you are looking to make a healthier bread without the use of coconut flour you could try using sprouted grain flour. You do not have to soak it as you would non-sprouted grain flour, so it comes together almost as easy as this coconut bread.