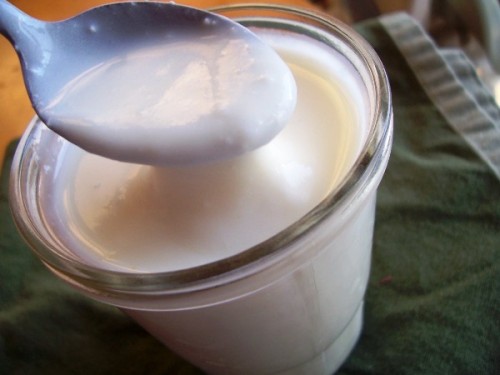 Edited on 10/5/09 to add: Since posting this I have also discovered that you can make raw yogurt on your counter top, without the use of a crock pot or yogurt maker. All you need is a starter and the super clear directions that come with it. Not only is it easier since you simply leave it on your counter top, but you also retain the benefits of the raw enzymes! You can find culture starters here.
I have tried other methods for making yogurt, but this is by far the easiest. I originally got this idea from Stephanie and use her basic recipe. Making your own yogurt is a frugal way to get some good probiotics into your family.
Here is the cost savings breakdown for us:
Before: we would buy organic plain yogurt from Trader Joe's: $3/quart
Now: I make it out of our grass-fed raw milk from the farmer: $1.75/quart
Savings = $1.25/quart x 2/week = savings of $2.50/week = savings of $130/year
Trader Joe's is the cheapest organic yogurt you can find. The health food store sells it for $4.50/quart. For me, it is definitely worth the savings to do the five minutes of total work involved in making yogurt in the crock pot.
Crock Pot Yogurt
Recipe notes: This recipe uses a 2 quart crock. In using a 4 or 4 1/2 quart crock I found the yogurt to have a bit of a "springy" texture. I was able to alleviate this by heating the milk an additional 15 minutes for a total of 2 hours and 45 minutes.
Turn your crock pot to low and pour in 1/2 gallon of milk.
Heat on low for 2 hours and 30 minutes.
Once 2 hours and 30 minutes have elapsed turn your crock pot off and unplug it. Let the milk cool in the crock with the lid on for 3 hours.
After 3 hours remove 1-2 cups of the warmed milk and place in a bowl. To that add 1/2 cup of yogurt with live active cultures and mix very well.
Pour the yogurt-milk mixture back into the milk and whisk thoroughly.
Place the cover back on the crock and wrap the entire crock pot in a thick bath towel or two.
Let it culture overnight, 8-12 hours.
In the morning stir yogurt (if desired) and store in glass quart jars or a container of your choice.
For optimum texture, refrigerate for at least 8 hours before using.