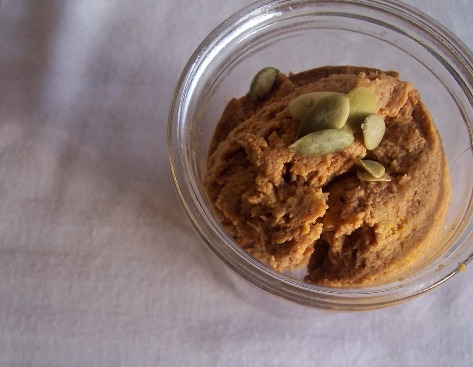 Every Friday night I like to serve up a healthy dessert of some sort. We don't generally have sweets during the week and without grains most baked goods are out.
This pumpkin pudding, which is basically pumpkin pie filling, has been my go to dessert for some time now. It is delicious topped with pumpkin seeds or walnuts and even whipped cream or sweetened yogurt cheese. This is more dense than the usual pumpkin pie filling, but also more nutrient-dense due to the addition of two more eggs.
Sweetening desserts with stevia is a bit of a discretionary thing. That is, you may want to add a bit less, taste it, and add more to your liking. This is especially true when you use a different brand of stevia. While I find this dessert to be sweet enough, it isn't nearly as sweet as good old pumpkin pie. It is rich and delicious, though.
I have used both coconut milk and heavy cream, both with great results. I thought that I would taste the coconut flavor, but it didn't come through. I think the fact that we like our pumpkin spiked with lots of warming spices helps.
Stevia Sweetened Pumpkin Pudding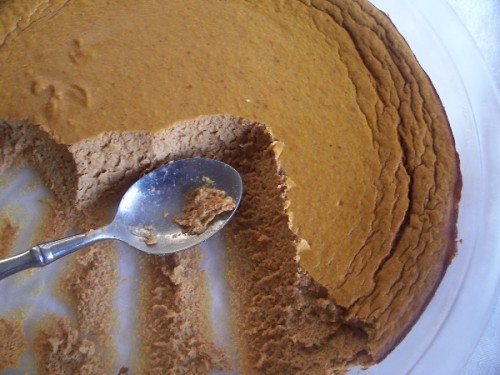 Ingredients
4 large eggs from pastured chickens
1 15 oz. can pumpkin
1/2 cup of full fat coconut milk or heavy cream
1/2 tsp salt
3/4 tsp. NuNatural brand no-carb stevia powder
2 teaspoons cinnamon
3/4 teaspoon ground ginger
3/8 teaspoon cloves
1 teaspoon vanilla extract
Directions
Preheat oven to 350 degrees. Butter a pie pan or casserole dish.
In a large bowl beat the eggs. Beat in the pumpkin and coconut milk or cream. Add the salt, stevia, spices and vanilla, mixing thoroughly. If you'd like to be certain you can taste and add more sweetener. (Raw eggs from pastured hens won't hurt you.)
Pour into buttered pie pan or casserole dish. Place on the middle rack of the oven and bake for 30-40 minutes, or until the center is just slightly jiggly. It will continue to set while it cools.
This is a contribution to In-Season Recipe Swap.