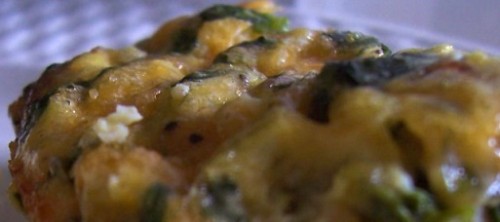 Turnips are great in that not only are the roots delicious and nutritious but, so are the greens. But, if you aren't wild about the flavor of greens, then a quiche is a great way to hide them.
We like quiche so much, in fact, that when it's not too hot we eat a greens quiche about once a week. It is endlessly versatile and extremely forgiving. As a bonus – leftovers are always delicious.
And if you are blessed, as I was, to be able to obtain all of your ingredients from local farmers it will be even tastier.
Turnip Greens Quiche
Ingredients
1 tablespoon butter
4 spring onions or 1 large onion, chopped
5 garlic scapes or ~4-5 garlic cloves, minced
1/4 cup cooked bacon or other meat
2 bunches of turnip greens (~ 4 cups chopped)
12 large eggs
1 cup milk
2 cups cheese, grated
1/4 teaspoon black pepper
1 1/4 teaspoons salt
1/4 teaspoon mustard powder
Directions
Preheat oven to 350 degrees. Heat a skillet over medium heat and melt butter. Saute onions and garlic in butter until softened.
Stir in pre-cooked meat (or throw meat in with onions and garlic) and turnip greens. Saute the greens until slightly wilted. Allow to cool slightly.
In a large bowl crack eggs and mix in milk, cheese, black pepper, salt and mustard powder. Stir in greens mixture.
Pour egg mixture into a buttered 9×13″ pan. Bake for approximately 45 minutes or until center is set and edges are just golden brown. Serve with a fresh green salad.
This post is a contribution to Tammy's recipe swap, real food wednesdays and works for me wednesday.