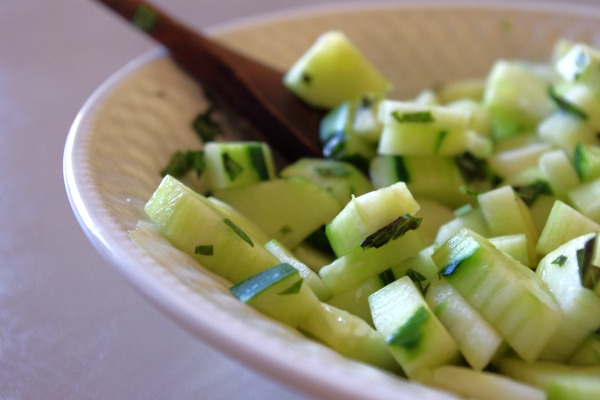 Call me a crazy pregnant lady who either craves food like mad or can't stand the site of it, but I can not stop making this salad. You could blame it on the hormones, but I think there's more to it than that.
I made this same salad with the addition of tomatoes last summer about 100 times, but tomatoes aren't ready here yet. I discovered that even without those delicious fresh tomatoes, cucumbers and basil are just too good together not to make this salad five times a week for three weeks straight.
The papa is getting a little tired of it I think, which is why next time I'll make a big bowl for lunch while he's at work and then make him a big green salad with blue cheese for supper – his favorite.
Don't let its deliciousness fool you. You should make this salad simply because it takes three minutes, a knife, and a serving bowl to make. That's one reason I could eat it three times a day.
Well, this salad and gravy poured over just about anything… or just gravy for that matter.
Cucumber Salad with Basil
Recipe Notes: You can definitely add olive oil to this, but it's so quick and refreshing on its own that I don't find it necessary.
Ingredients
1 large cucumber, peeled and chopped
1 handful of basil, torn
raw red wine vinegar to taste
salt to taste
Directions
Cut cucumber into bowl and add basil. Add a generous glug of raw red wine vinegar and season generously with salt. Taste for seasoning and adjust as needed.
Eat. Every day for three weeks.
What summer salads are you eating every night?