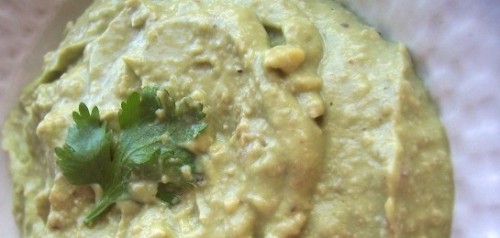 There are times when I create recipes, tuck them away into my kitchen notebook, and don't share them with you for weeks. This is one of those times.
Right now we are eating as locally as possible with tons of fresh greens, local pastured animal products, asparagus and strawberries. Avocados don't exactly make the list in the midwest – anytime of the year.
I created this recipe when I wanted a garlicy, non-dairy spread for sprouted garbanzo burgers – one of our favorites.
Reminiscent of guacamole, but tangier and smooth, this is delicious served as an alternative to mayonnaise or as a vegetable dip.
Oh, and if you have a toddler make sure you let them push the button on the food processor. I am sure that is what makes it taste so good ;).
Avocado-Walnut Spread with Lemon & Garlic
Ingredients
2 ripe avocados
the juice of 1/2 large lemon
1/2 cup walnuts
2 garlic cloves, peeled
1/2 teaspoon sea salt
1/4 cup water
1 tablespoon extra virgin olive oil (optional)
Directions
Remove avocado flesh from the skin by cutting it in half, removing the pit, and scooping out the flesh.
Add avocado, lemon juice, walnuts, garlic cloves, salt and water to food processor. Process until smooth.
With food processor running, drizzle in olive oil. If a thinner consistency is desired add more water.
Garnish with fresh herbs and serve as a spread, vegetable dip or mayonnaise stand-in.